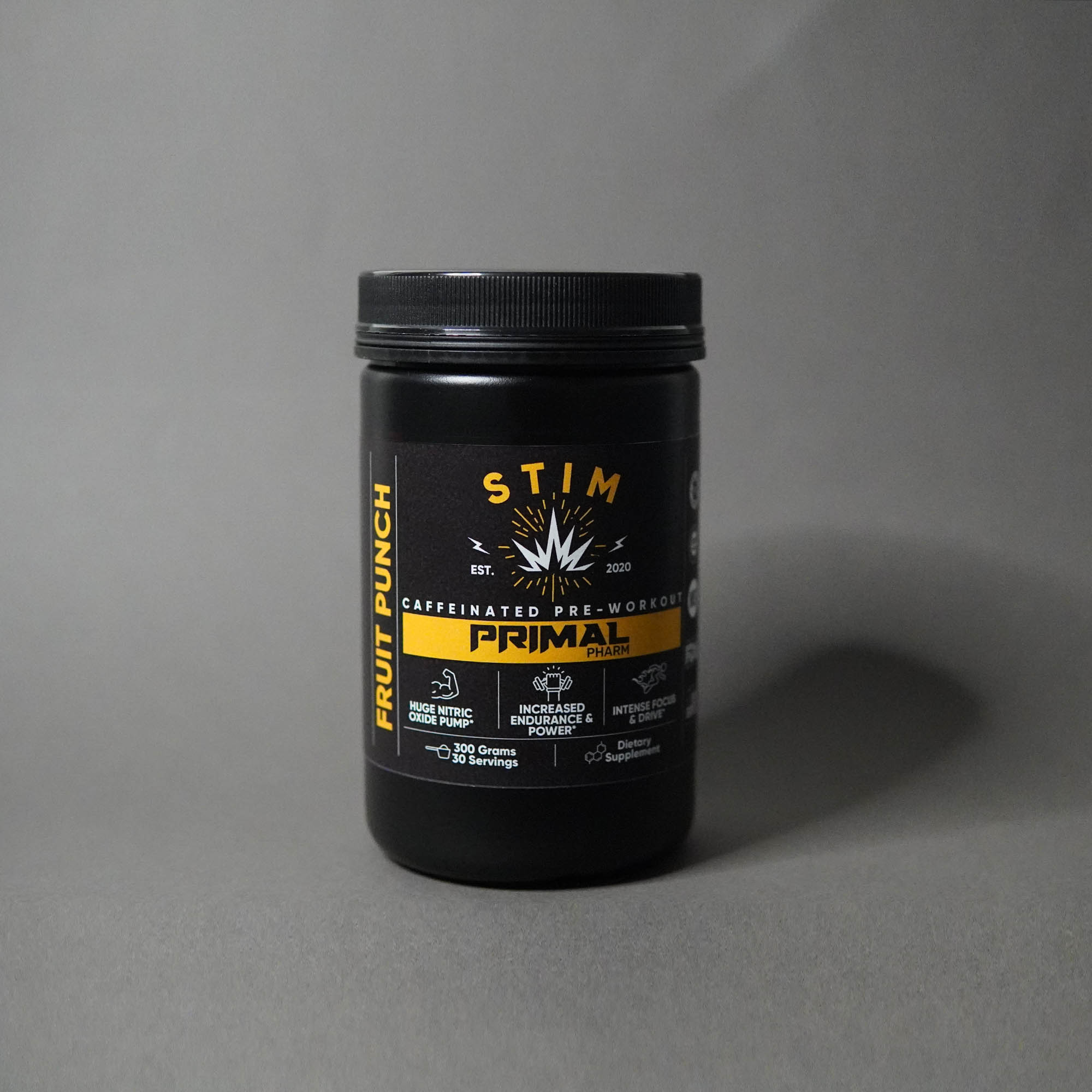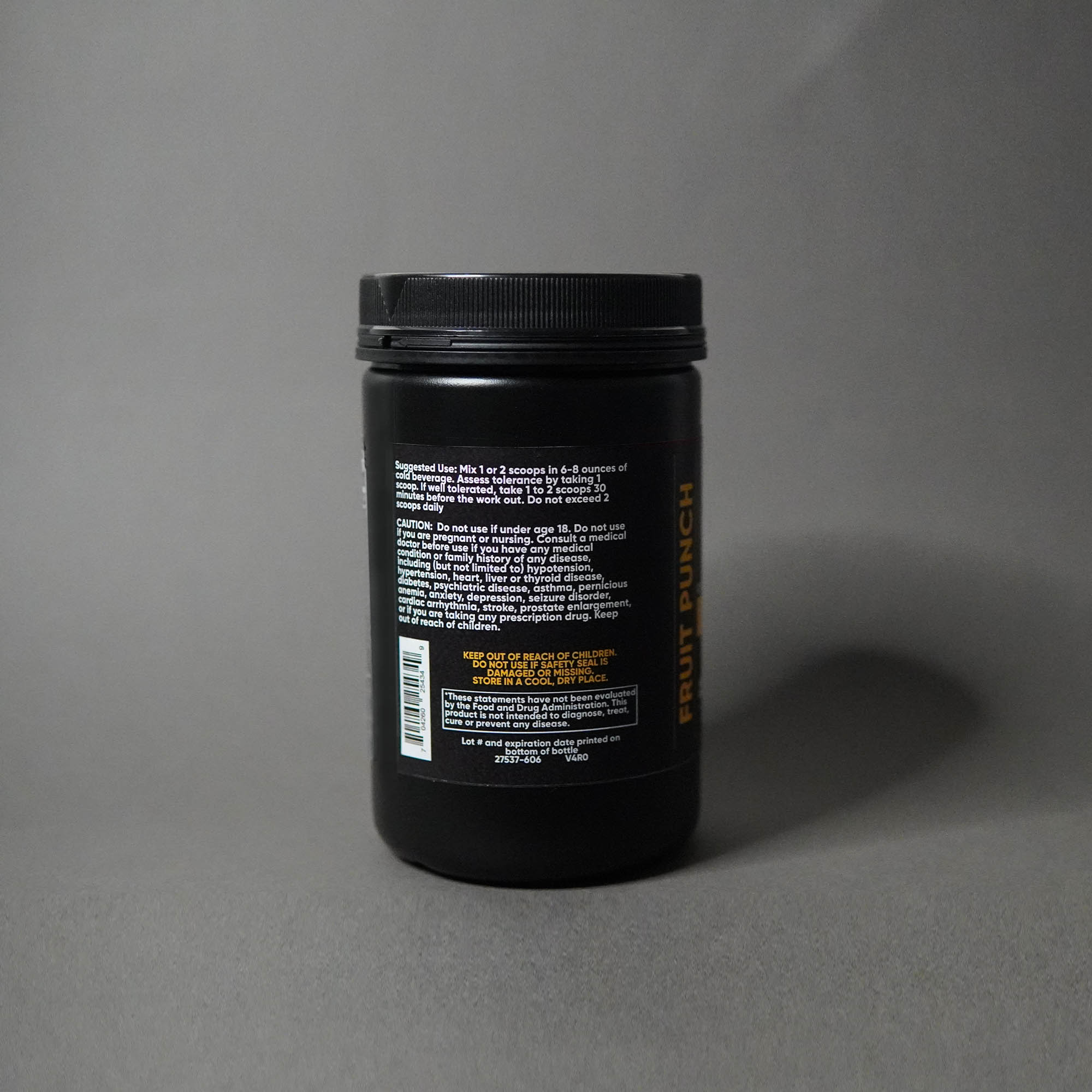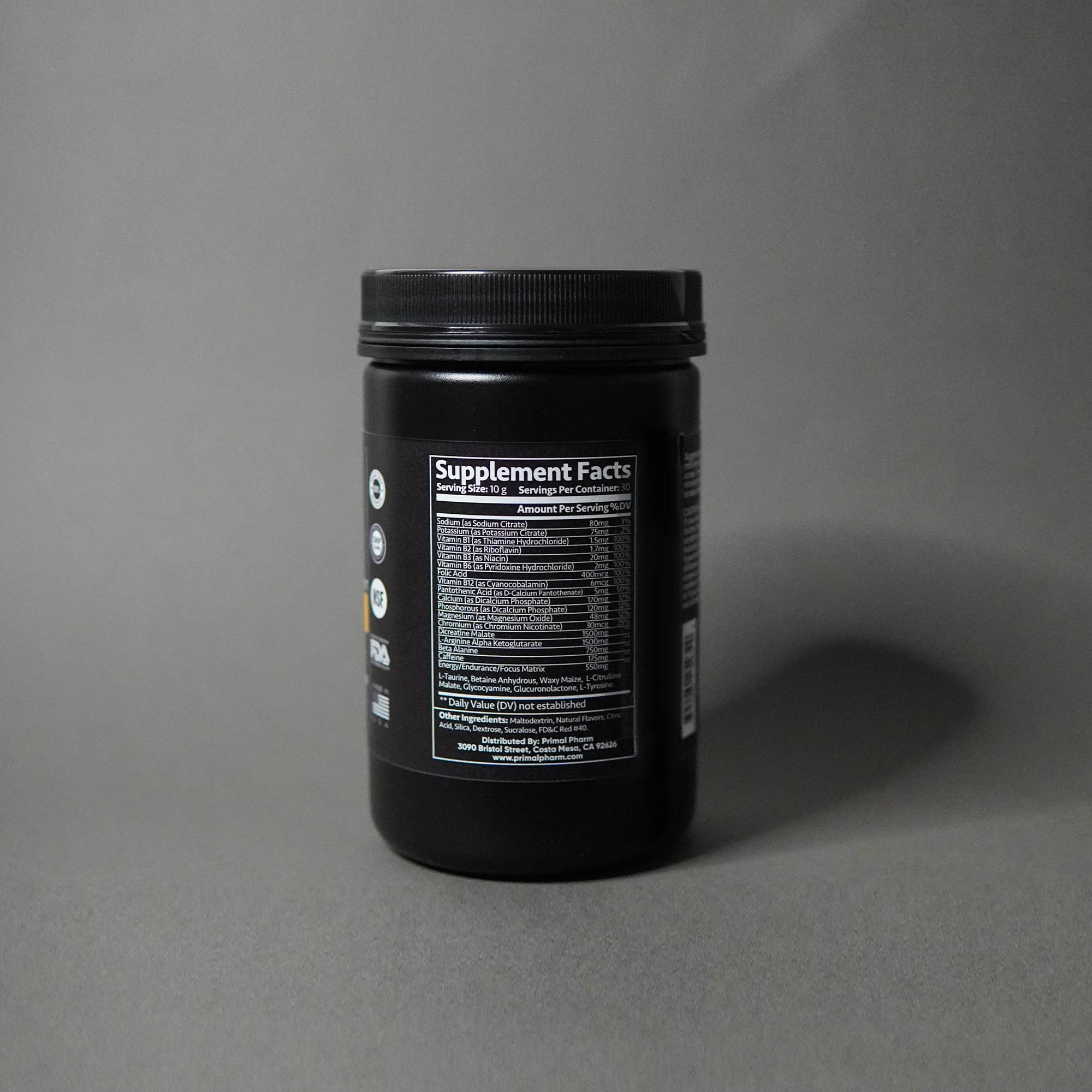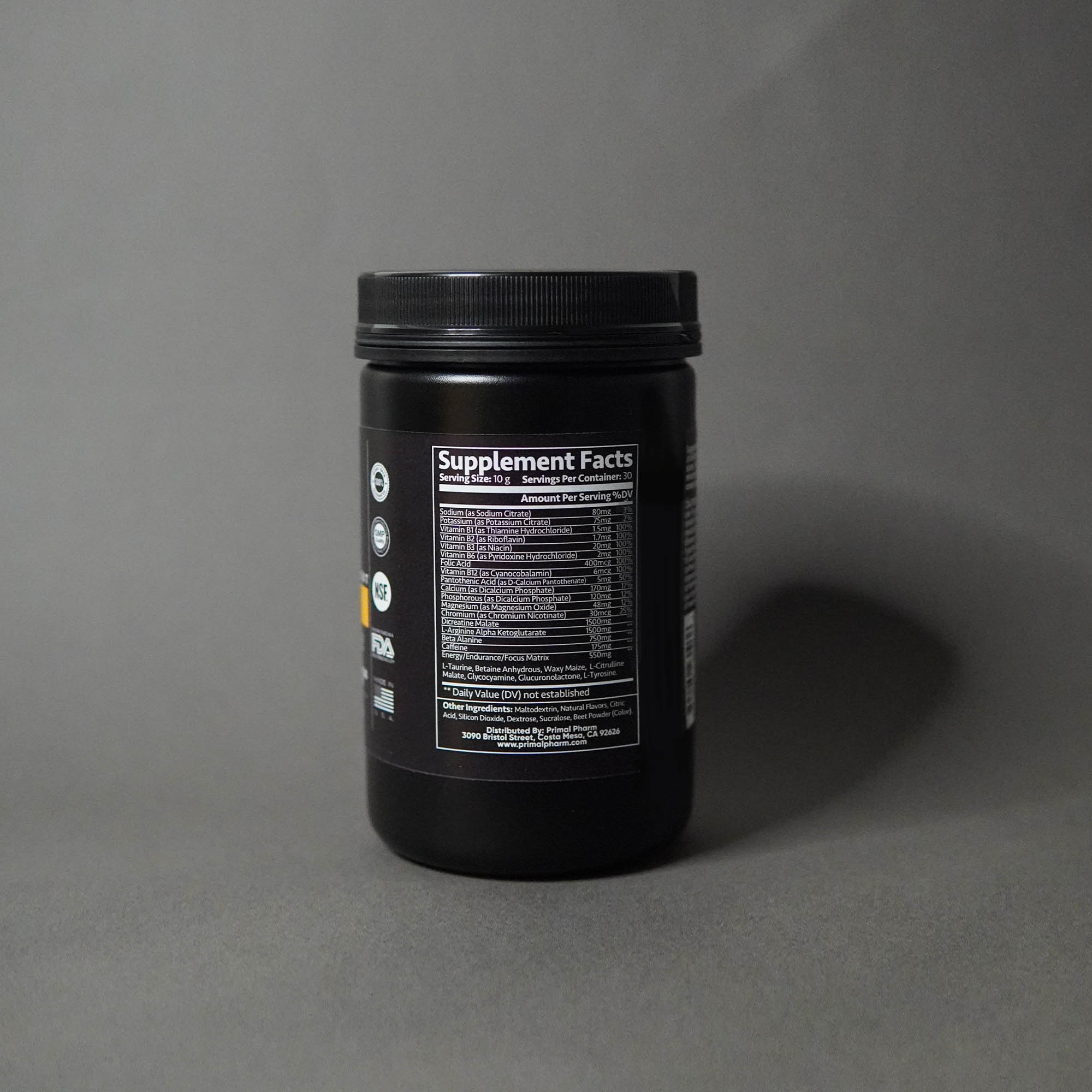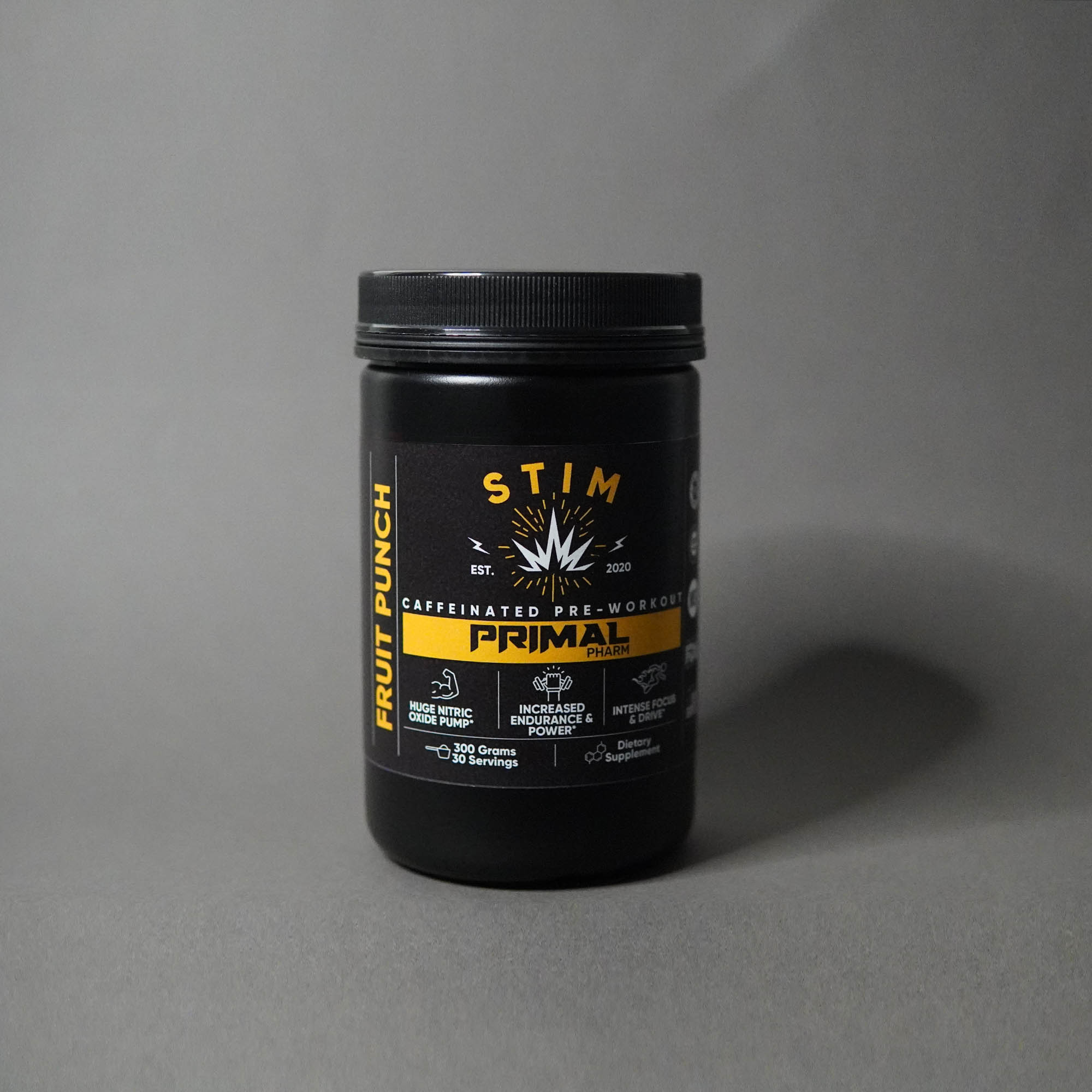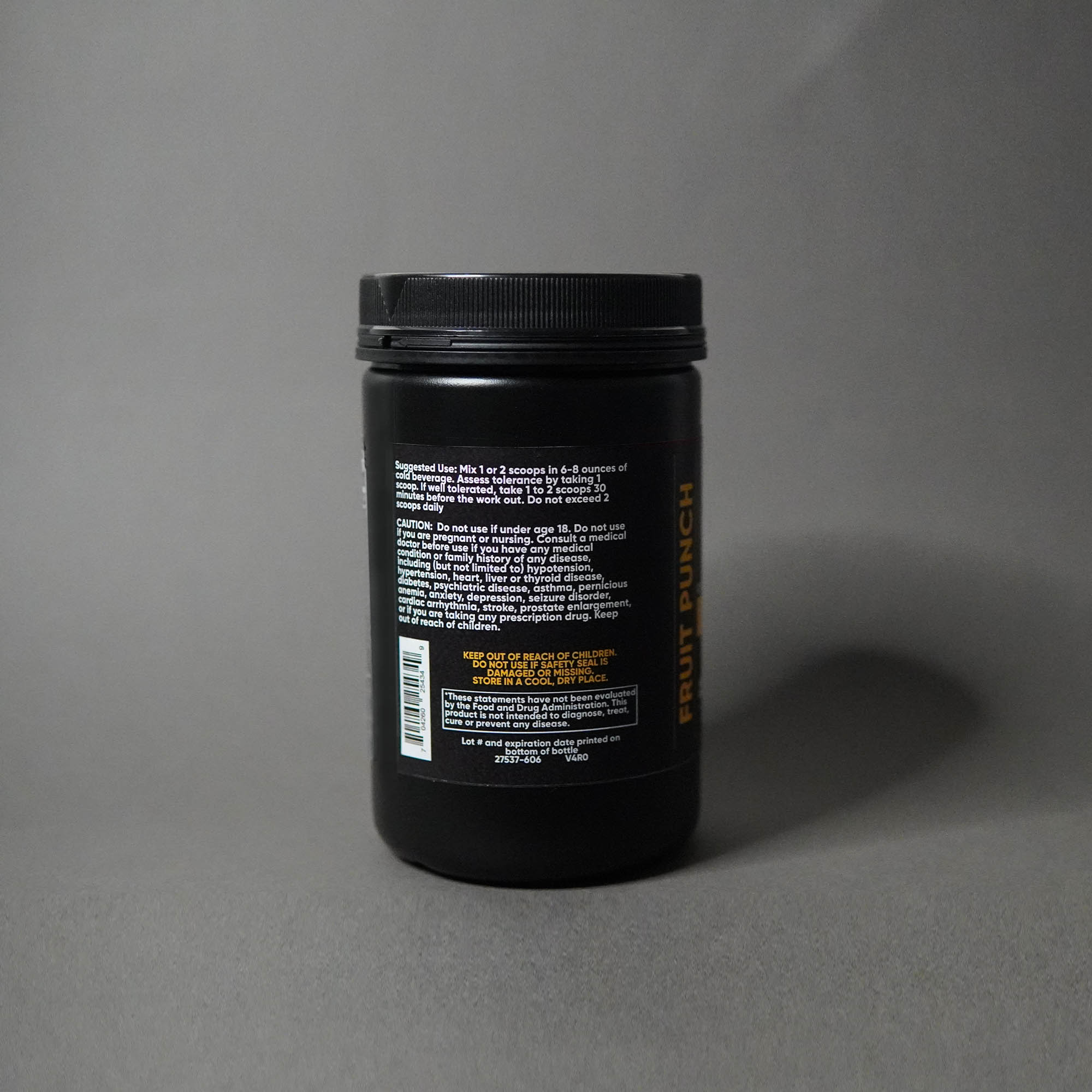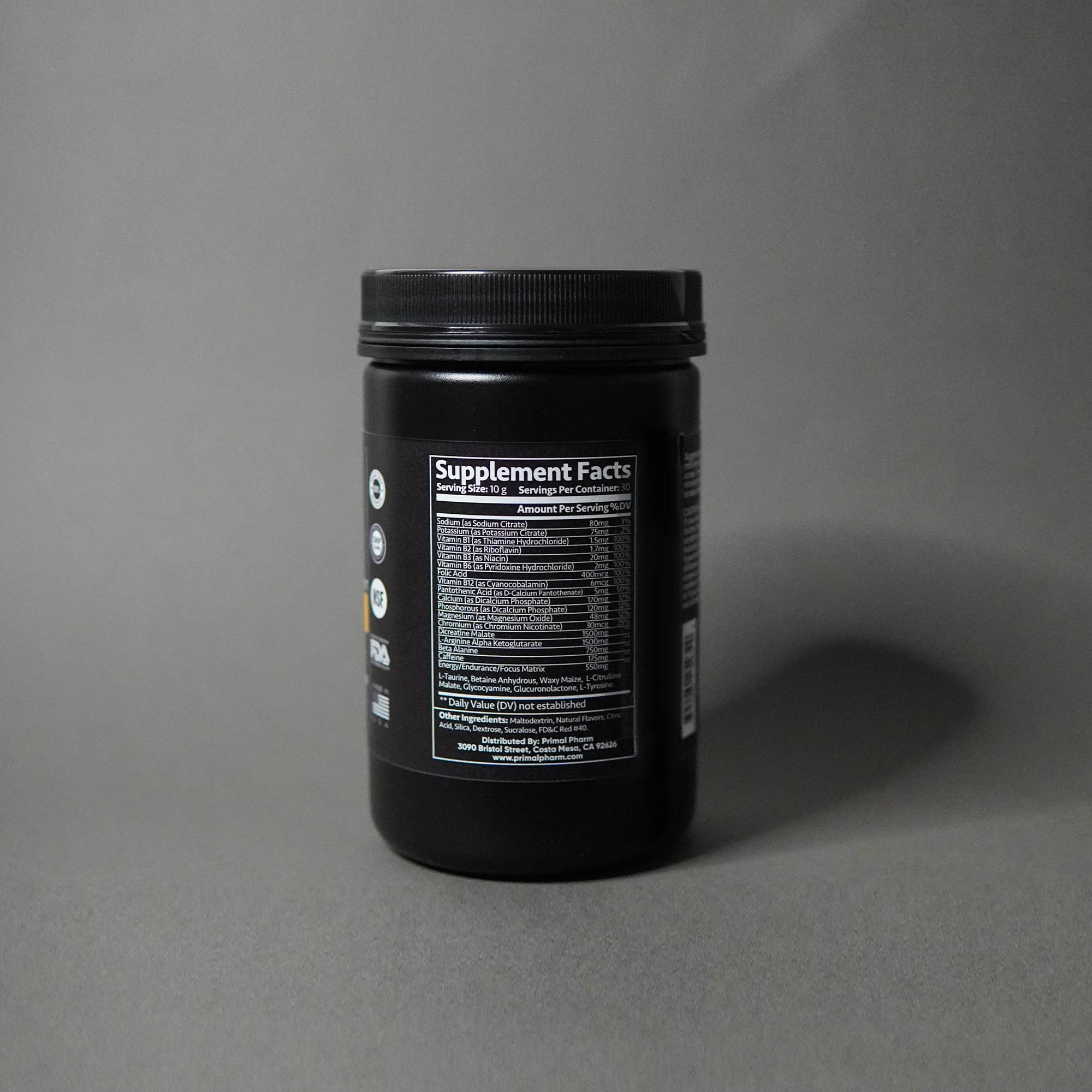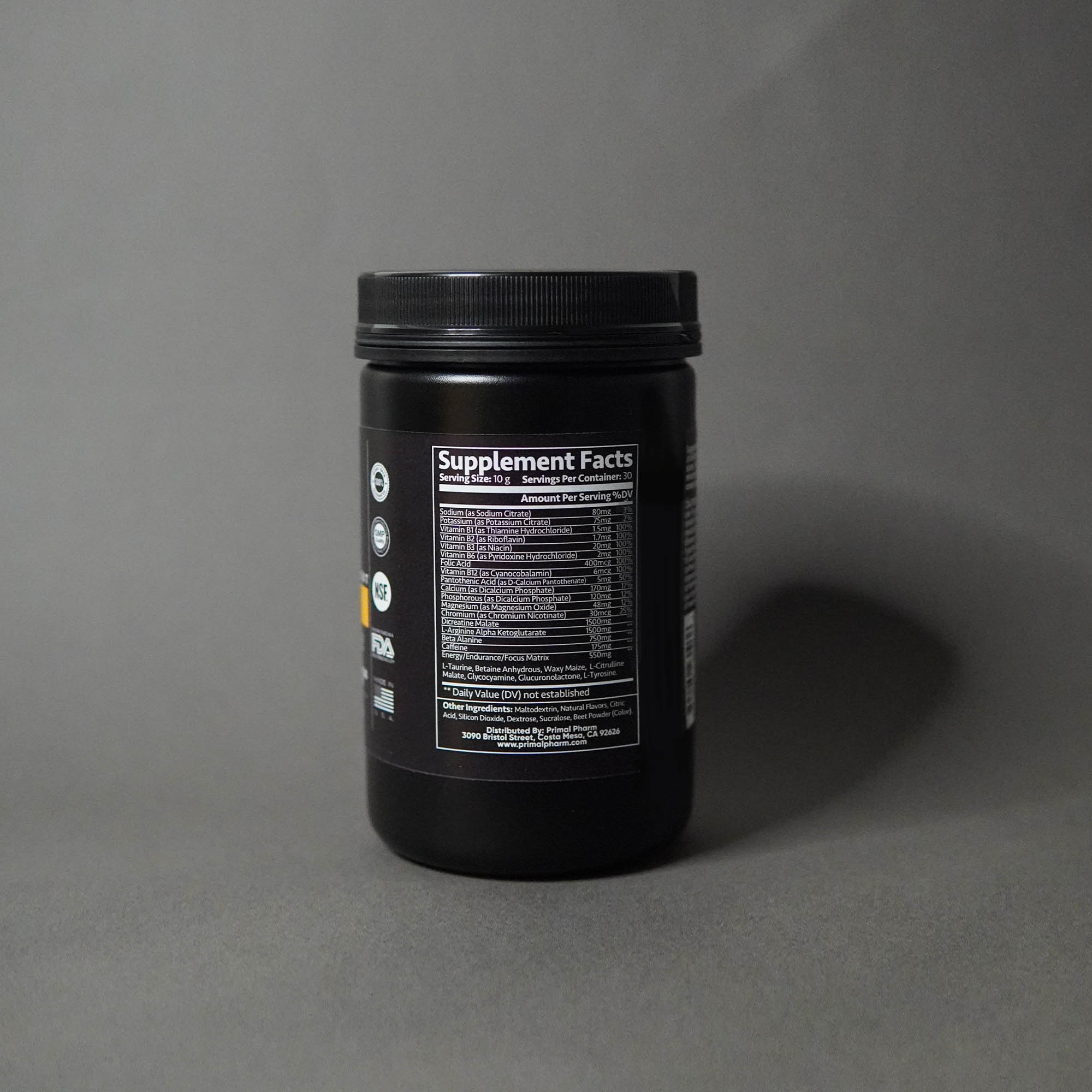 5 Ingredients for an Intense Workout
Primal Pharm™ STIM® pre-workout contains amino acids, nitric oxide precursors, B vitamins, caffeine, and creatine - all of which aid in boosting athletic performance.
Over 2000mg of Nitric Oxide Precursors

1500mg of Creatine

175mg of Caffeine

Over 25mg of Vitamins B1, B2, B3, B6 & B12

550mg of our proprietary Energy/Endurance/Focus Matrix
Level Up Your Energy & Focus
INTENSE FOCUS & DRIVE
Caffeine has the ability to block the brain-signaling molecule (adenosine) that makes you feel "tired" helping benefit your mood, brain function and increase alertness.
HUGE NITRIC OXIDE PUMP
Nitric oxide relaxes blood vessels and improves blood flow. Nitric Oxide precursors, such as L-arginine, help boost your body's production of Nitric Oxide thus enhancing exercise performance.
AIDS WITH FAT LOSS
Leucine and isoleucine help increase insulin secretion resulting in a drop in blood sugar levels.
INCREASED POWER
Creatine, one of the most effective and proven supplements, helps increase ATP production which can drastically improve high-intensity exercise performance.
INCREASED ENDURANCE
Beta-alanine has been shown to reduce fatigue, increase endurance, and improve your time to exhaustion (TTE) allowing you to exercise for longer periods at a time.
Natural, Safe and Clinically-Backed Ingredients
DICREATINE MALATE - 1500MG
Creatine ( with malic acid to aid absorption) helps improve athletic performance during high-intensity workouts.
L-ARGININE ALPHA KETOGLUTARATE - 1500MG
Aids in releasing natural growth hormone, protein synthesis, vasodilation, and enhances fat metabolism.
BETA ALANINE - 750MG
Raises carnosine levels in the muscles by up to 58% in just four weeks, and 80% in 10 weeks, helping improve muscle performance and endurance during high-intensity exercise.
CAFFEINE - 175MG
Medium dose of caffeine to block the effects of adenosine, helping prevent drowsiness and allowing for longer workouts.
L-TAURINE
Used to assist with congestive heart failure, lower high blood pressure, liver disease, high cholesterol, and improves mental performance.
BETAINE ANHYDROUS
Involved with the normal function of the blood, bones, eyes, heart, muscles, nerves, and the brain and is known for its capacity to improve performance and body composition.
WAXY MAIZE
A fast absorbing carbohydrate for post-workout recovery that helps with cramps and bloating and is absorbed nearly 80% quicker than Dextrose.
L-CITRULLINE MALATE
Increases the amount of arginine in the blood leading to increased nitric oxide production which translates to longer workouts, less soreness and better recovery.
GLYCOCYAMINE
Aids in the formation of creatine leading to to less fatigue, greater strength and endurance, and an improved sense of well-being.
GLUCURONOLACTONE
Contributes to numerous benefits for physical performance, aiding with aerobic and anaerobic exercise.
L-TYROSINE
Precursor of several neurotransmitters needed for mental alertness, anxiety, blood pressure, healthy mood and keeping your thyroid gland functioning properly.
BEET ROOT POWDER
Shown to improve athleticism by improving muscle oxygenation, enhancing long-term endurance, lowering blood pressure, aiding in digestion, as well as increase heart health.
Suggested Use: Mix 1 or 2 scoops in 6-8 ounces of cold beverage. Assess tolerance by taking 1 scoop. If well tolerated, take 1 to 2 scoops 30 minutes before the work out. Do not exceed 2 scoops daily.
CAUTION: Do not use if under age 18. Do not use if you are pregnant or nursing. Consult a medical doctor before use if you have any medical condition or family history of any disease, including (but not limited to) hypotension, hypertension, heart, liver or thyroid disease, diabetes, psychiatric disease, asthma, pernicious anemia, anxiety, depression, seizure disorder, cardiac arrhythmia, stroke, prostate enlargement, or if you are taking any prescription drug. Keep out of reach of children.
More push than you'll ever need you'll be lifting more
One of the best products on the market by before they take it off
Best ever
Best preworkout on the market for sure, the taste is amazing and dissolves so easy
Definitely worth buying
This is the best pre-workout out I've tried and I've tried several. It gets the job done and doesn't taste awful.
Just the right energy
Preworkout super strong by energy just to say I love it
This best pre work out mix I've ever taken.
I've tried so many pre work out drinks and this one is the best, flavor is awesome, it last a long time, my work out are more intense, and it doesn't make you feel like your body feel like your itchy. for those how know what I'm talking about. and you can't beat the price.
great pre workout
i love this product. Im happy I was able to get it through Primal
READ IF YOU WANT TO PREVENT THE CRASH FROM THIS
I'm 22 and trying to throw on some muscle and this helps a lot. great pump, energy, and focus. I feel so zoned in when i lift now and jus vibe out to some music. It also taste great but the only down side is the crash due to the caffeine. to prevent this from happening to you just drink 2 bottles of water before lifting and then drink while u lift and after so basically if u drink a lot of water you'll be good
*These statements have not been evaluated by the Food and Drug Administration. This product is not intended to diagnose, treat, cure or prevent any disease.