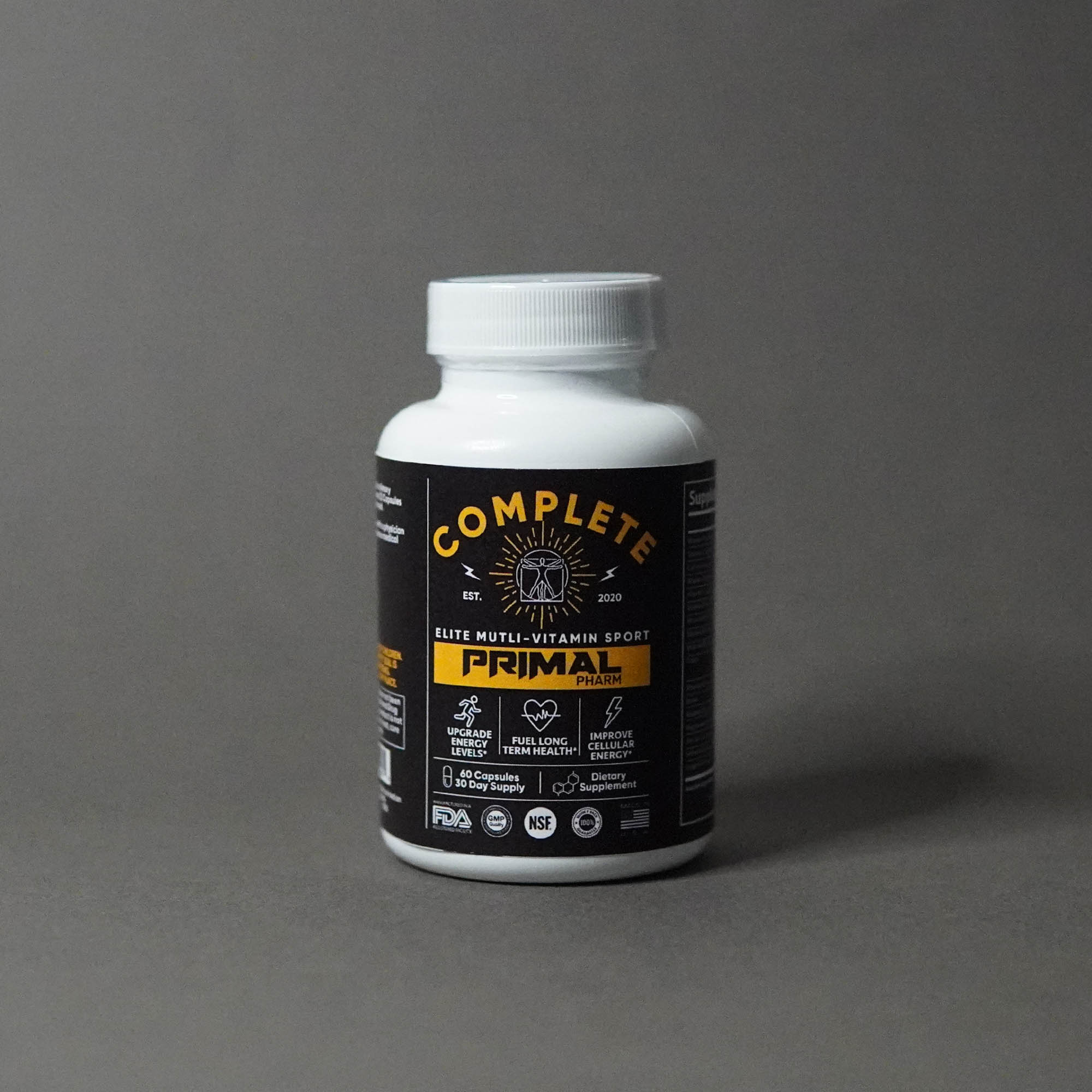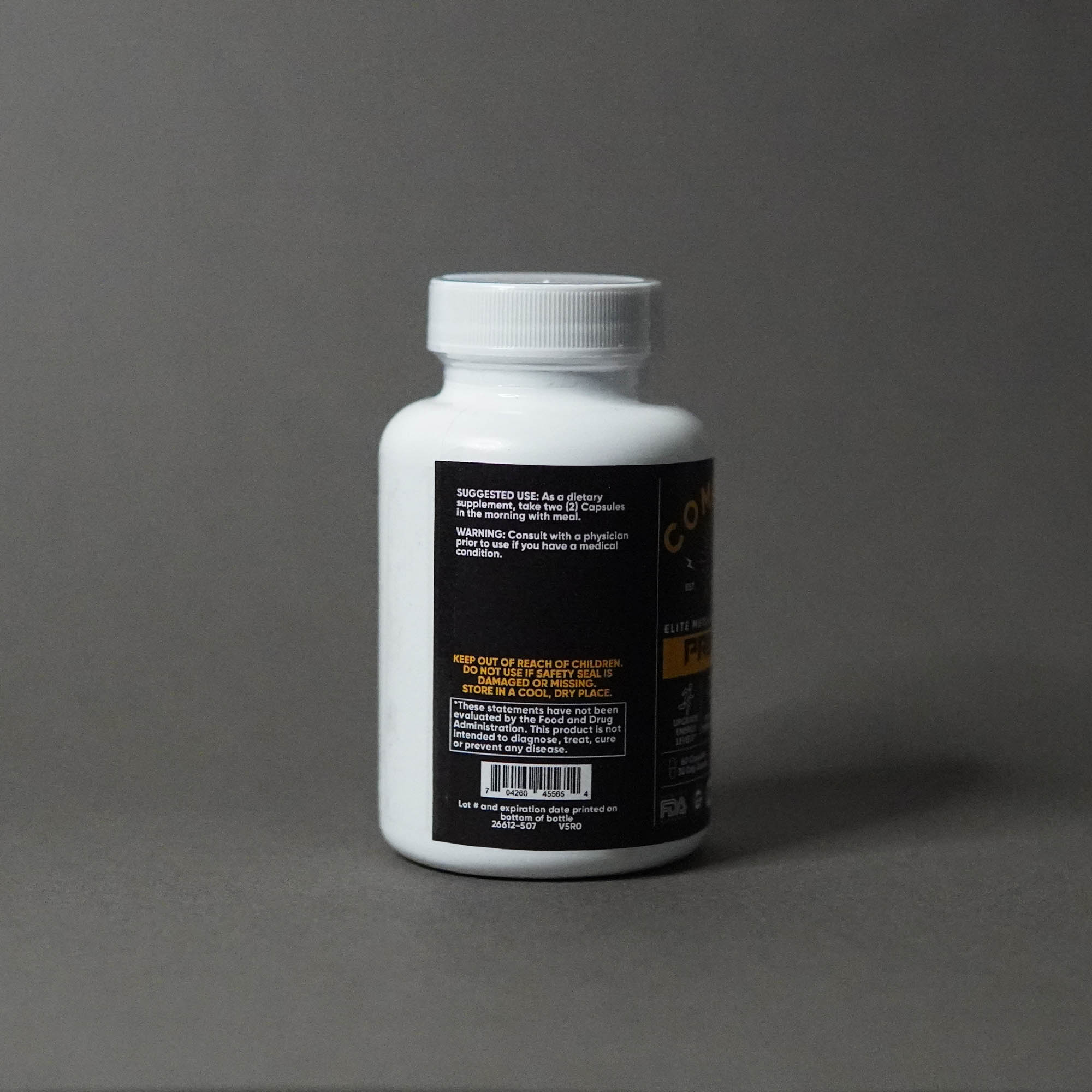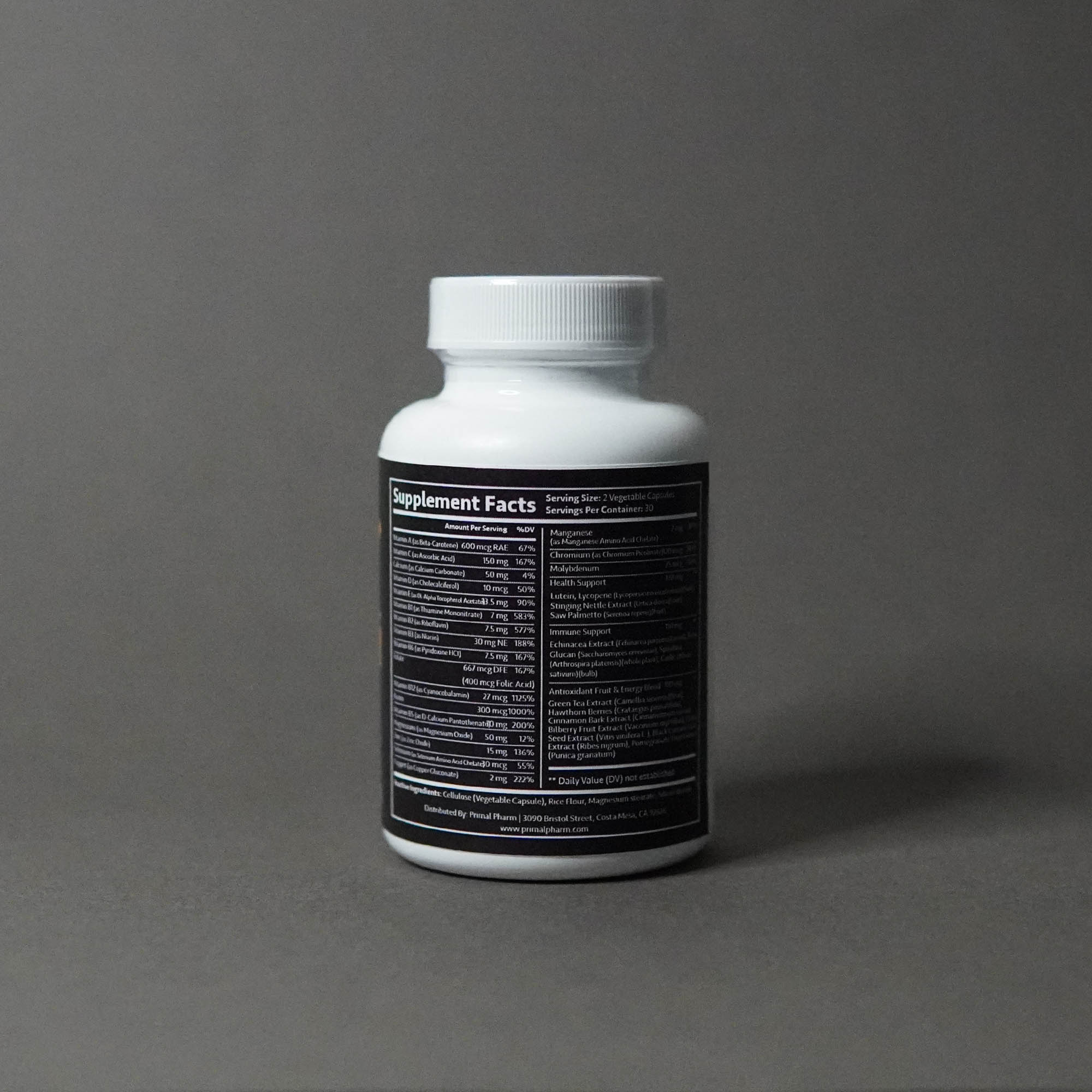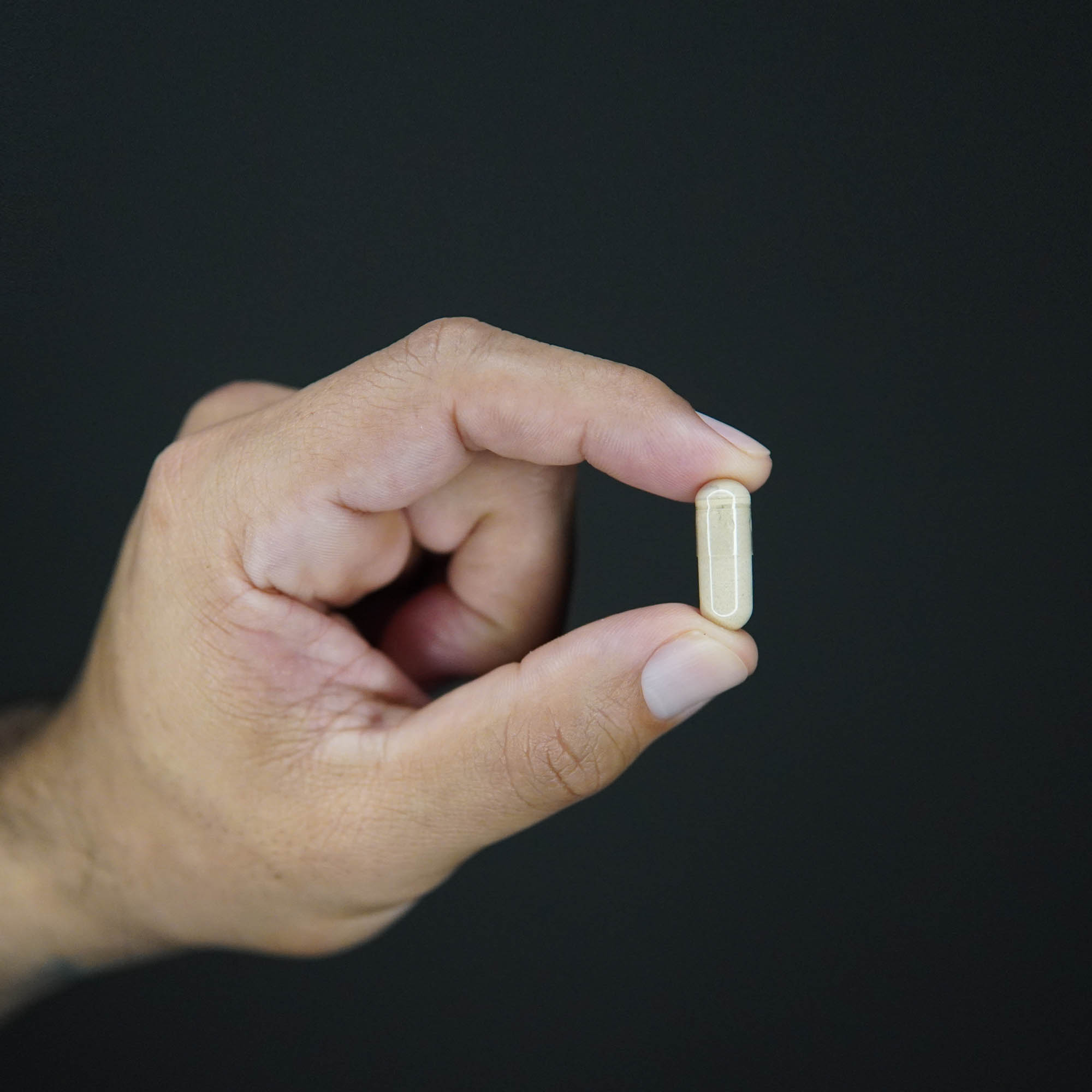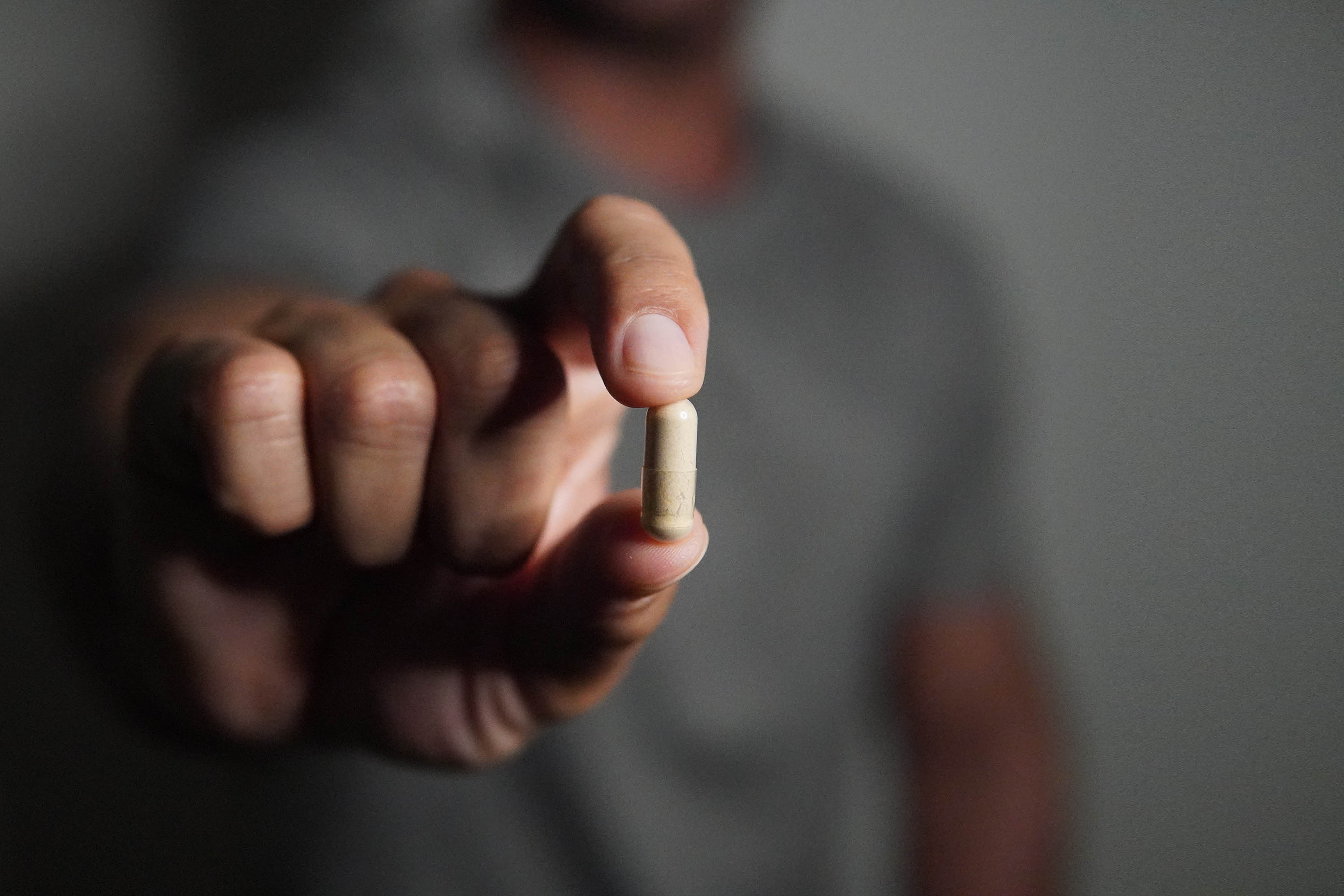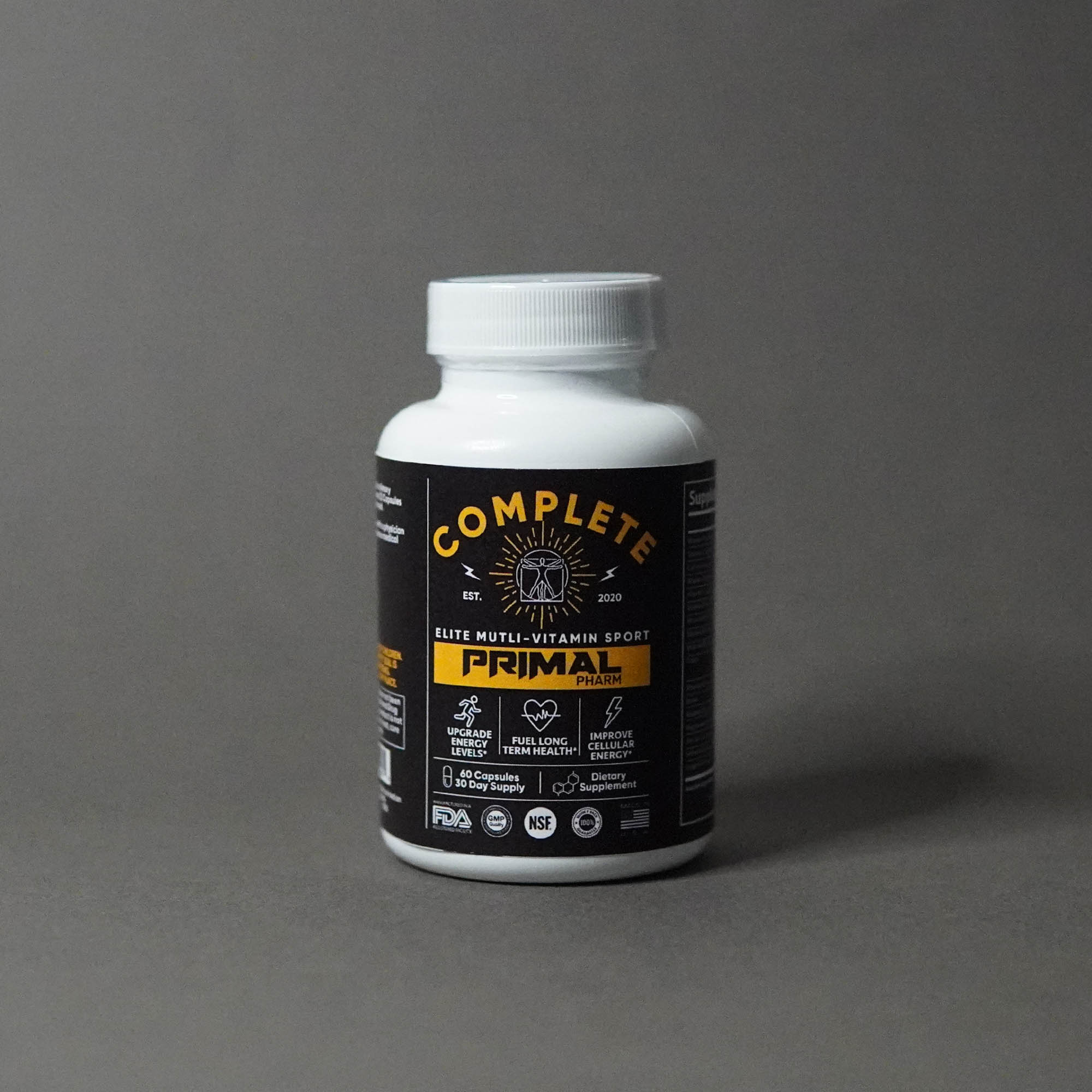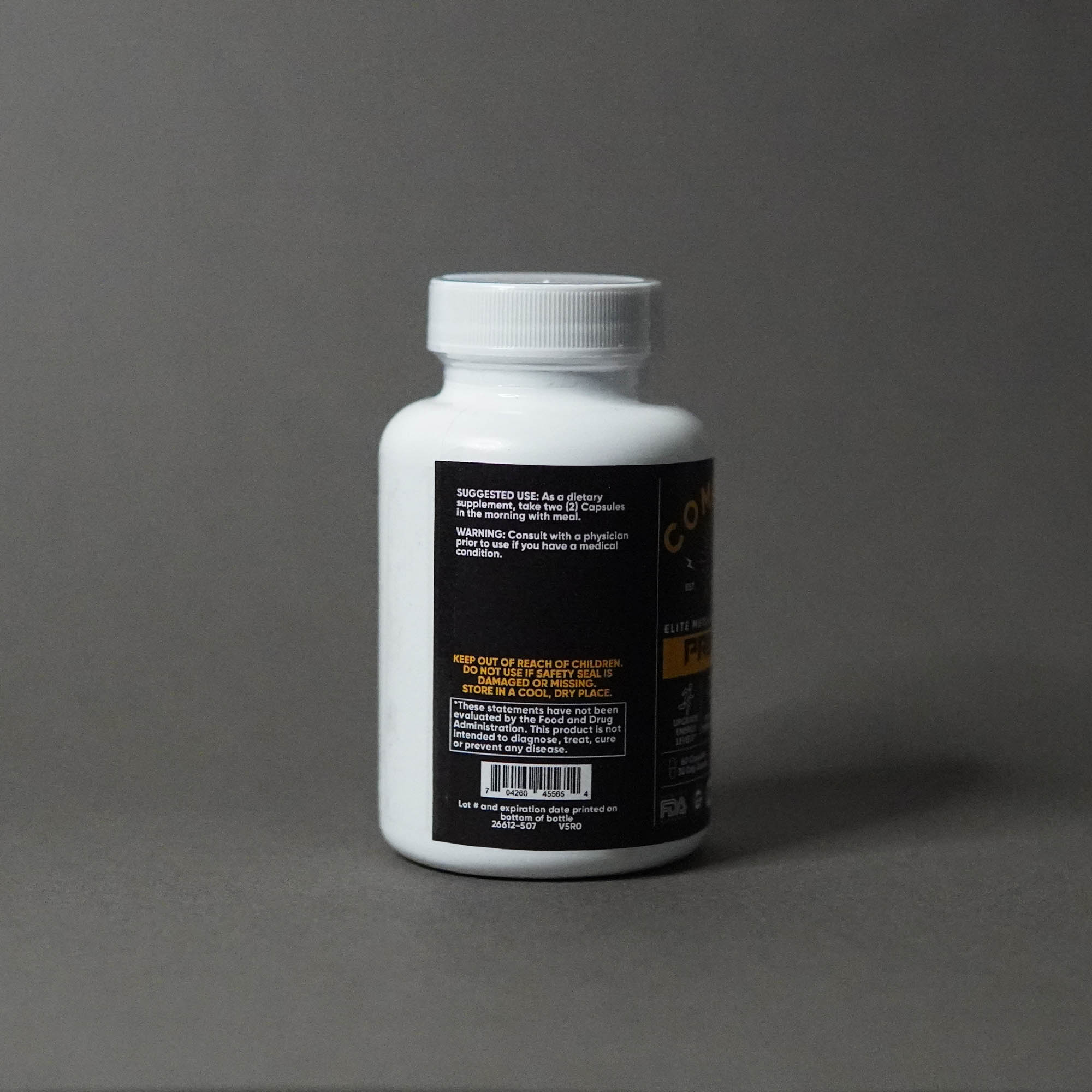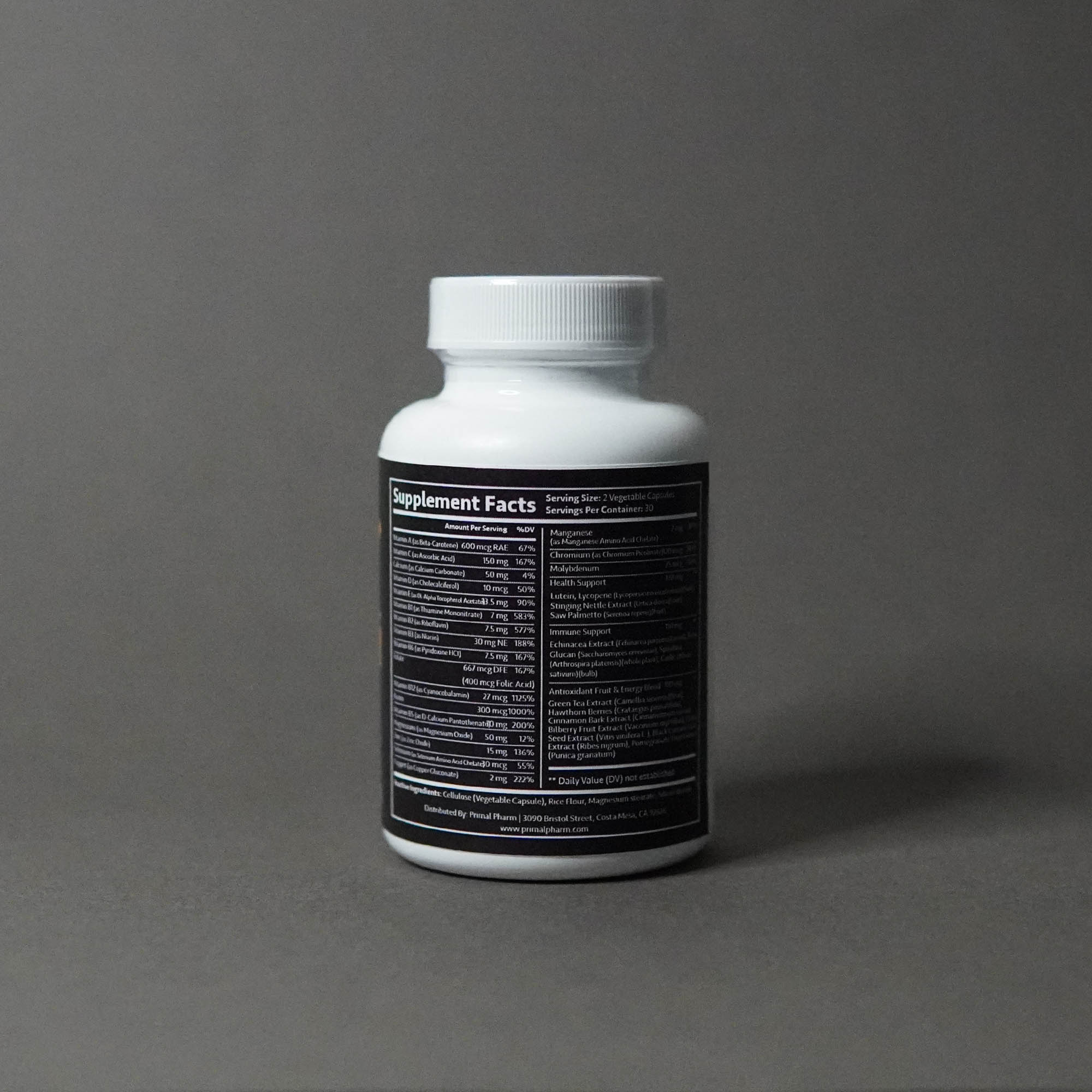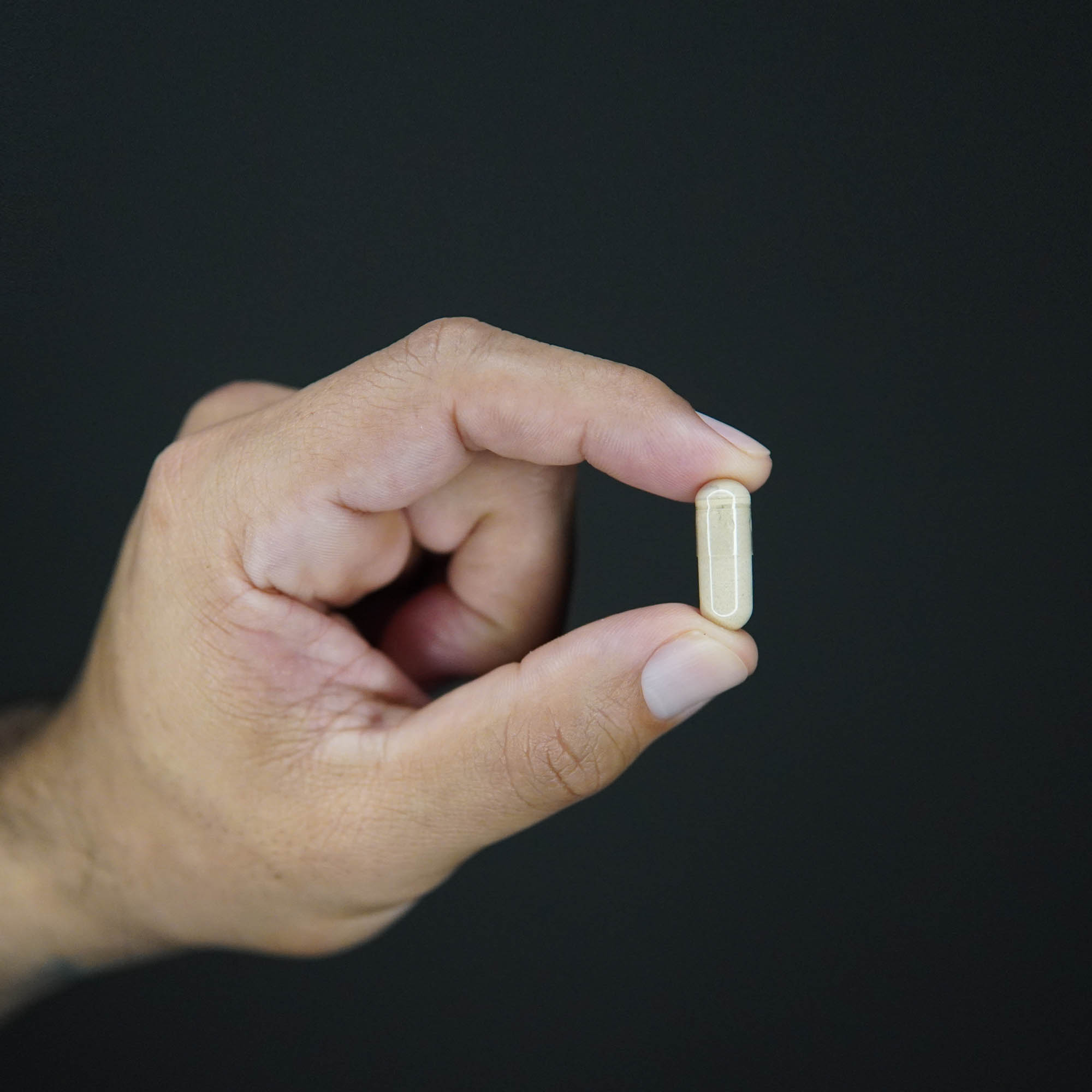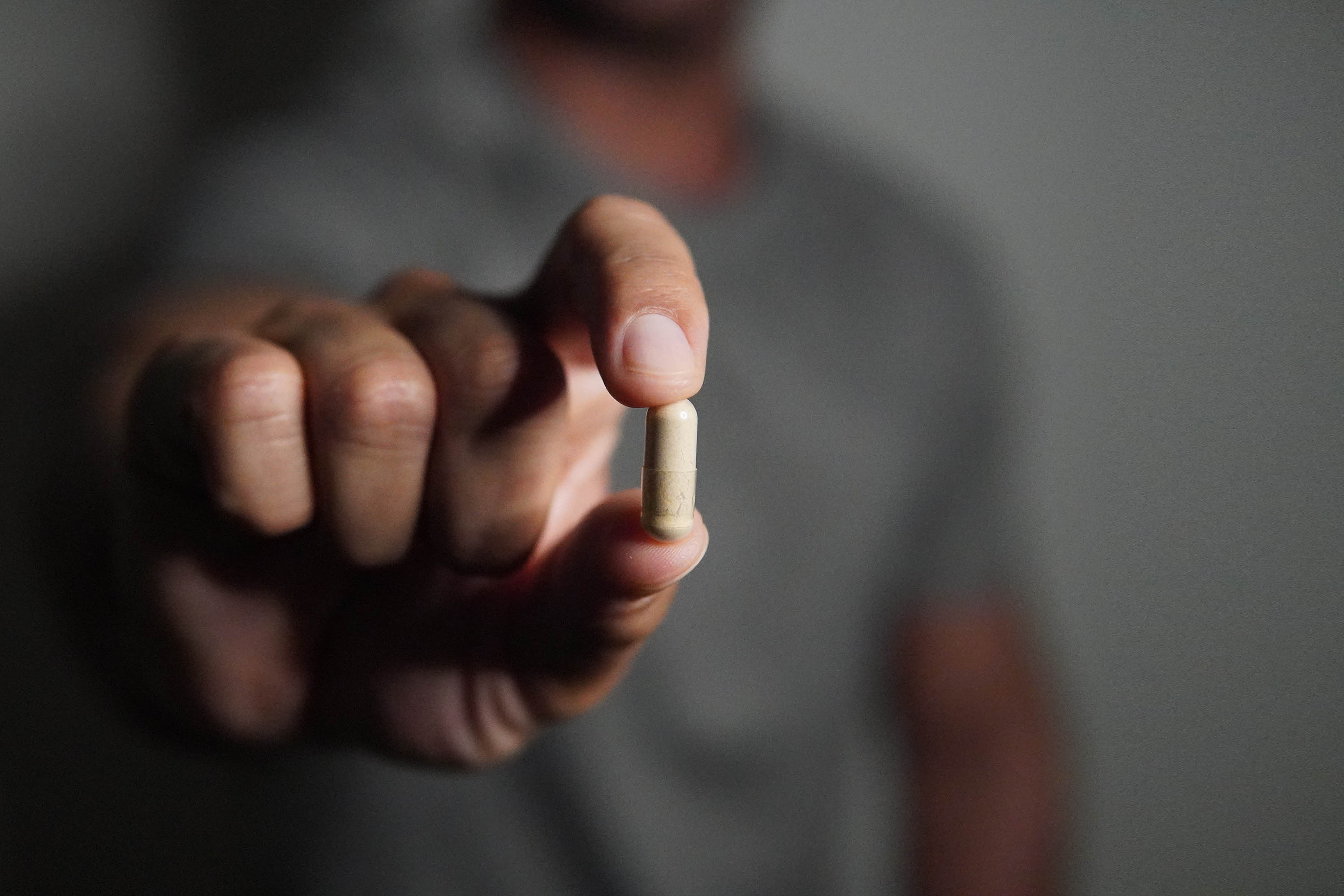 Elite Multivitamin for Athletes
A recent CDC study found 76% of adults don't eat enough fruit and 87% don't eat enough veggies, missing essential nutrients and raising the risk for heart disease, stroke, cancer, and other health conditions.
So how do you get your nutrients?
multivitamins
Multivitamins are like an insurance policy. They are a daily guarantee to ensure your body gets the vitamins and minerals it needs, making up for the shortfalls that happen when you don't get the nutrients you need through food.
Essential Daily Health Support
SPORTS PERFORMANCE
Thanks in large part to the Vitamin B family, taking a multivitamin is associated with a boost in energy levels, feelings of well being, as well as a decrease in stress and anxiety.
BOOSTS IMMUNITY
Vitamin C is a strong antioxidant known for strengthening the immune system. Vitamins D and E boost immunity, too. These vitamins can also help reduce allergy symptoms.
HEART HEALTH
Studies show that taking a high-quality multivitamin may reduce cardiovascular disease. Heart disease is the leading cause of death in both men and women in the U.S. Vitamins B1, B2, B6, K1, Niacin (B3), CoQ10 and magnesium, all play a role in cardiovascular health.
EYE HEALTH
An increasing number of studies link gut health to mood and mental health. Research shows taking probiotics may help improve symptoms of mental health disorders such as depression, anxiety, stress and memory, among others.
Natural, Safe and Clinically-Backed Ingredients
VITAMIN A (AS BETA-CAROTENE) - 600 MCG RAE - 67% DV
Vitamin A is essential for your health, supporting cell growth, immune function, fetal development and, most importantly, in vision and eye health.
VITAMIN C (AS ASCORBIC ACID) - 150 MG - 167% DV
Vitamin C drastically helps improve your immune system and used for preventing and treating the common cold and other infections like acne, skin and stomach infections.
CALCIUM (AS CALCIUM CARBONATE) - 50 MG - 4% DV
Helps makes your bones strong and dense, as well as help circulate blood, move muscles, and release hormones.
VITAMIN D (AS CHOLECALCIFEROL) - 10 MCG - 50% DV
42% of the US population is vitamin D deficient resulting in bone loss, depression, infections, fatigue, bone and back pain, hair loss, muscle pain and more.
VITAMIN E (AS DL-ALPHA TOCOPHEROL ACETATE) - 13.5 MG - 90% DV
Helps prevent heart disease, blocked arteries, high blood pressure, supports healthy brain & nervous system function, boosts the immune system, and increases endurance and energy.
VITAMIN B1 (AS THIAMINE MONONITRATE) - 7 MG - 583% DV
Aids in improving digestive problems, helping poor appetite, boosting the immune system, kidney health, increased energy, cognitive enhancement, positive mood, and supports proper neural functioning.
VITAMIN B2 (AS RIBOFLAVIN) - 7.5 MG - 577% DV
Aids in the production of red blood cells, helps break down carbohydrates, proteins and fats to produce energy, and it allows oxygen to be used by the body.
VITAMIN B3 (AS NIACIN) - 30 MG NE - 188% DV
Helps breakdown food for energy, lower cholesterol, ease arthritis, boost brain function, improve heart health, memory loss, motion sickness, and blood pressure.
VITAMIN B6 (AS PYRIDOXINE HCI) - 7.5 MG - 167% DV
Helps boost the immune system, prevents infections, prevent kidney stones, alleviate allergies, and boost seratonin which affects positive mood.
FOLATE - 667 MCG DFE (400 MCG FOLIC ACID) - 167% DV
Helps convert food into energy, aids in the production of DNA and RNA, make red blood cells and help iron work properly in the body.
VITAMIN B12 (AS CYANOCOBALAMIN) - 27 MCG - 1125% DV
Supports nerve cell function, red blood cell formation, DNA synthesis, boosts energy, improves memory and helps prevent heart disease.
BIOTIN - 300 MCG - 1000% DV
Help the body convert food into energy, keep your skin, hair, eyes, liver, and nervous system healthy and support embryonic development during pregnancy.
VITAMIN B5 (AS D-CALCIUM PANTOTHENATE) - 10 MG - 200% DV
Helps convert food into energy, mak sex and stress-related hormones, make red blood cells, and supports eyes, skin, hair and nervous system.
MAGNESIUM (AS MAGNESIUM OXIDE) - 50 MG - 12% DV
Helps regulate blood sugar levels, boost athletic performance, create new proteins, create & repair DNA, regulate neurotransmitters and aid in muscle movement.
ZINC (AS ZINC OXIDE) - 15 MG - 136% DV
Helps with gene expression, immune function, protein creation, DNA synthesis, wound healing and growth and development.
SELENIUM (AS SELENIUM AMINO ACID CHELATE) - 30 MCG - 55% DV
Supports mental health, embryo development, thyroid hormone metabolism, prevent cell damage, help muscle function and boost immune response.
COPPER (AS COPPER GLUCONATE) - 2 MG - 222% DV
Helps maintain healthy bones, blood vessels, nerves, and immune function, and it contributes to iron absorption.
MANGANESE (AS MANGANESE AMINO ACID CHELATE) - 2 MG - 87% DV
Helps the body form connective tissue, bones, blood clotting factors, sex hormones is essential for normal brain and nerve function.
CHROMIUM (AS CHROMIUM PICOLINATE) - 120 MCG - 343% DV
Helps improve the body's response to insulin or lowering blood sugar in those with diabete and may help reduce hunger, cravings and binge eating.
MOLYBDENUM - 75 MCG - 167% DV
Molybdenum is essential for your health to process proteins and genetic material like DNA and help break down waste and toxins in the body.
HEALTH SUPPORT Blend - 170 MG
Proprietary blend of Lutein, Lycopene, Stinging Nettle Extract and Saw Palmetto to help support your overall health.
IMMUNE SUPPORT Blend - 110 MG
Proprietary blend of Echinacea Extract, Beta Glucan, Spirulina and Garlic to help boost your immune system.
ANTIOXIDANT FRUIT & ENERGY BLEND - 190 MG
Proprietary blend of Green Tea Extract, Hawthorn Berries, Cinnamon Bark Extract, Bilberry Fruit Extract, Grape Seed Extract, Black Currant Fruit Extract and Pomegranate Fruit Extract for added antioxidants and help boost your energy levels.
Suggested Use: As a dietary supplement, take two (2) Capsules in the morning with meal.
CAUTION: Consult with a physician prior to use if you have a medical condition.
Seems good to go.
I tried one of the one-a-day type mens multivitamins awhile back. They made me feel horrible. In the trash they went. Trying to get healthy, so tried these after comparing them to others. I liked that the dose called for 2 tablets instead of 1. That way I could just take one, and cut the amounts in half to see how it goes. Ive been taking them for over a week now. Have felt fine and had no issues, unlike with the last ones.
Changed my life
I was struggling to have energy and be active. Started taking 1 of these a day (even though rec. dose is 2) along with high quality D vitamins and it has made a REAL difference. I was just always drowsy throughout the day, but now I take an incredibly super low dose of less than 1/8th of a childrens 1mg Melatonin to help me sleep and these in the morning - and have experiences what is no less than life-changing results. Its pretty rad.
Blessing for people who cant swallow most mulit tablets
Takes a minute to adjust to swallowing the capsule is bigger than whats needed which is clear because theres empty space but still a blessing to those who cant swallow tablets.
Works Great for me
Works great for me. Im active. They help me. Good deal.
Mend vitamins
My boyfriend likes that is all the ingredients he needs for a daily multi vitamin. He is not one to take a lot of supplements.
Great multivitamin
Easy to swallow, Ill definitely be purchasing more of it soon.
Great for Energy
I purchased these for my Boyfriend and he has had great things to say about the way these Vit/Mineral Supplement has benefited him. After trying for one mth, he will be subscribing for the refills. Having more energy through the day has also benefited have more of a desire & motivation to have extra FUN in the evening as well. :-)
This one pill is all thats needed.
Got these for my husband to take. Just one a day replaces the many separate supplements he was taking previously. It seems to be working as hes been on them about 6 months now and has lots of energy.
Works for me
GMO free, gluten free, dairy free, soy free. Very balanced ingredients for men as well. My wife shared with me that people that take a good multivitamin are less likely to contract cancer, never researched it but, it cant hurt. Ive been taking this brand for about 3 years, took GNC 50+ until I couldnt find them anymore. For 65 years old Im doing very well, active and strong. Eat a decent diet as well, and eating out of a window a lot less helps too. Peace!!
Good quality
My husband normally does the thrive vitamins but those are so expensive so he wanted me to find him a cheaper alternative. I found these which have close to the same ingredients. and he likes them. he said they seem to help the same way thrive does. He likes these and we plan on ordering them again
*These statements have not been evaluated by the Food and Drug Administration. This product is not intended to diagnose, treat, cure or prevent any disease.