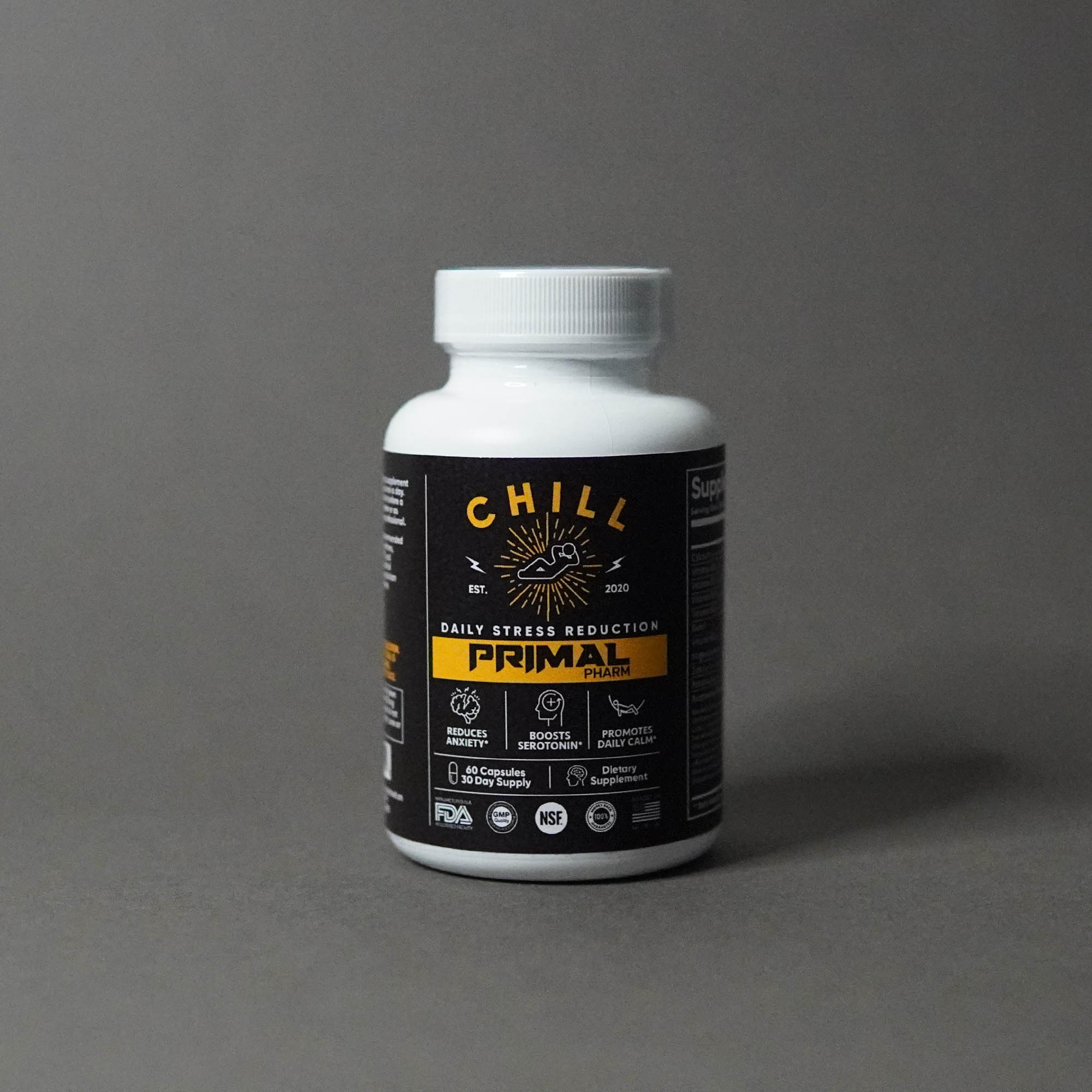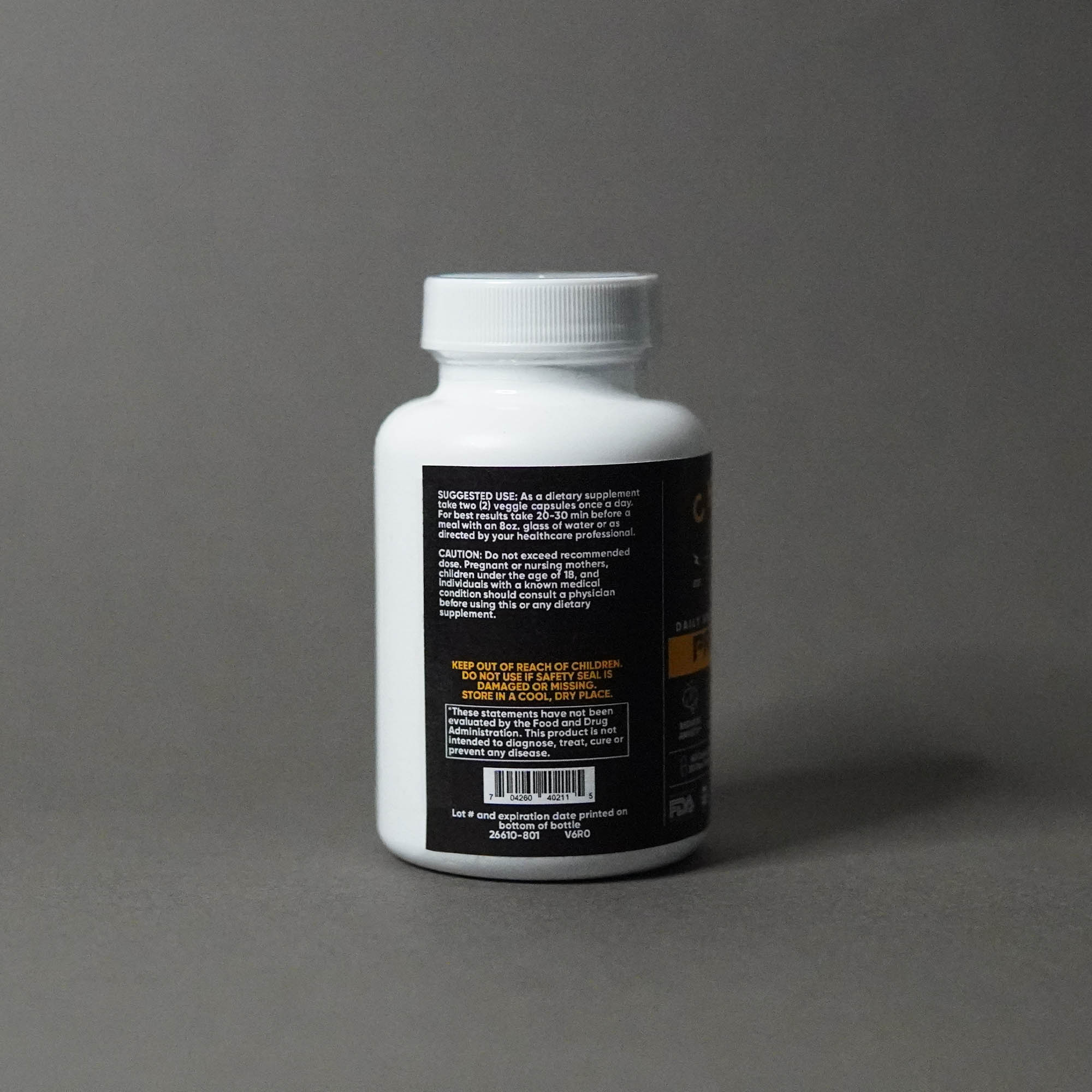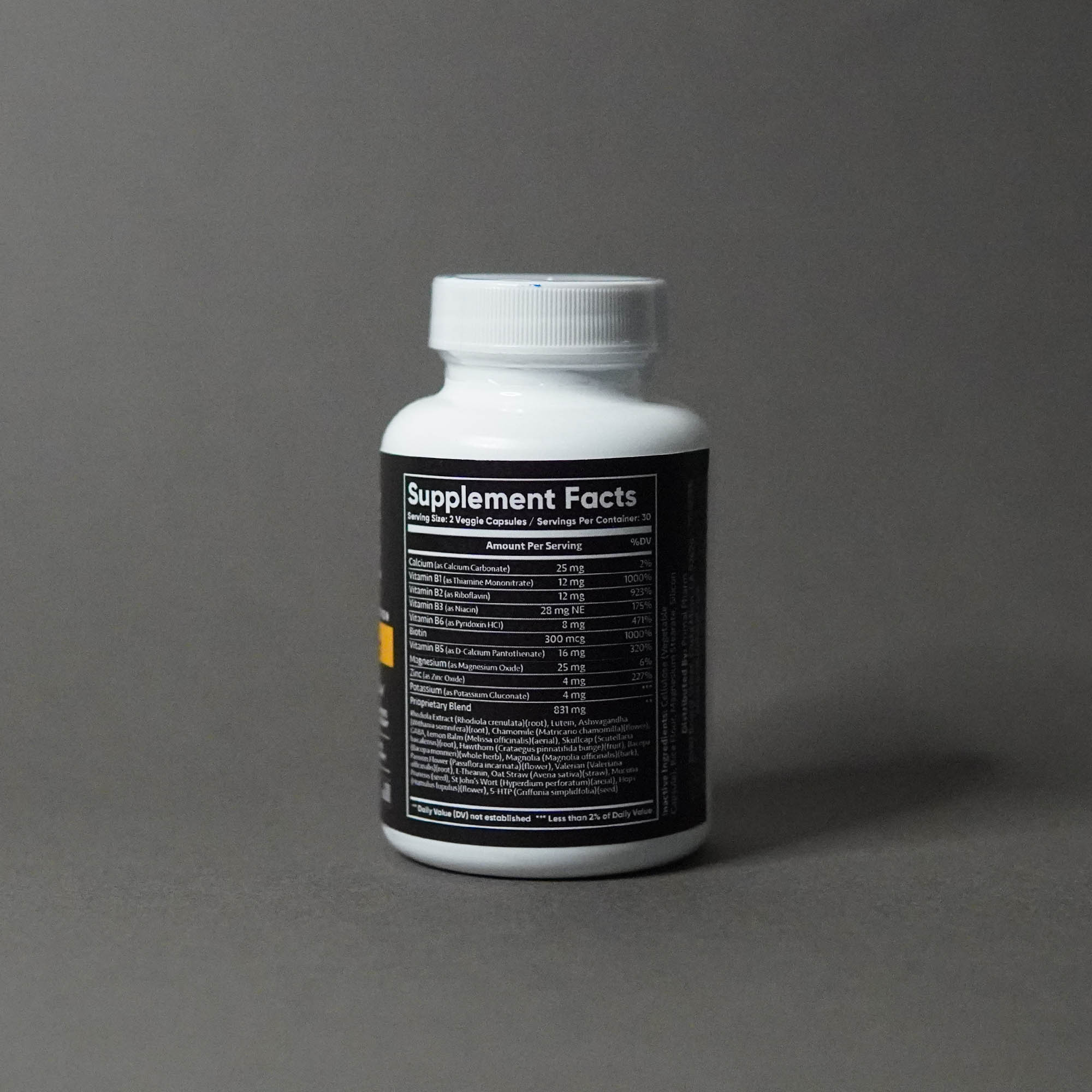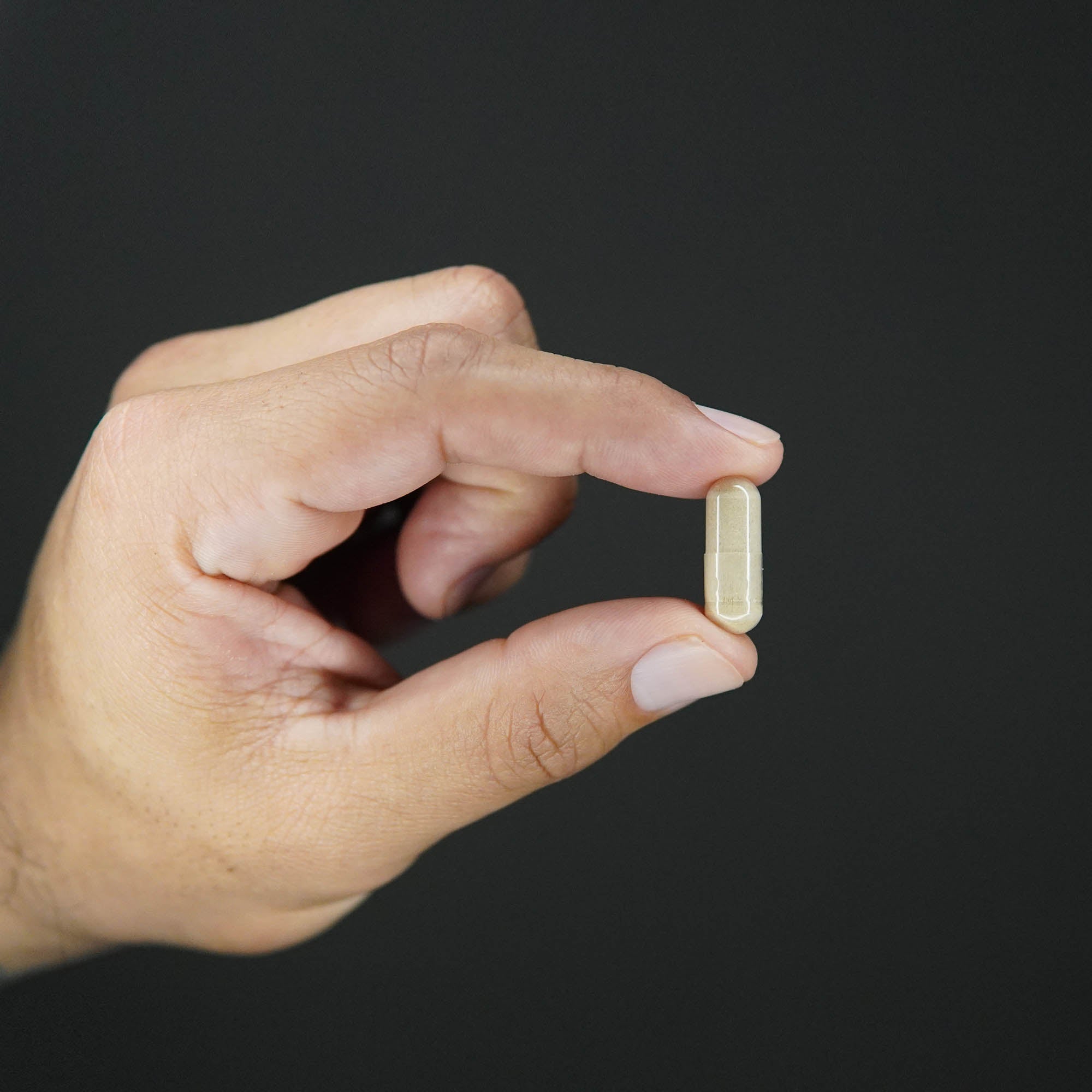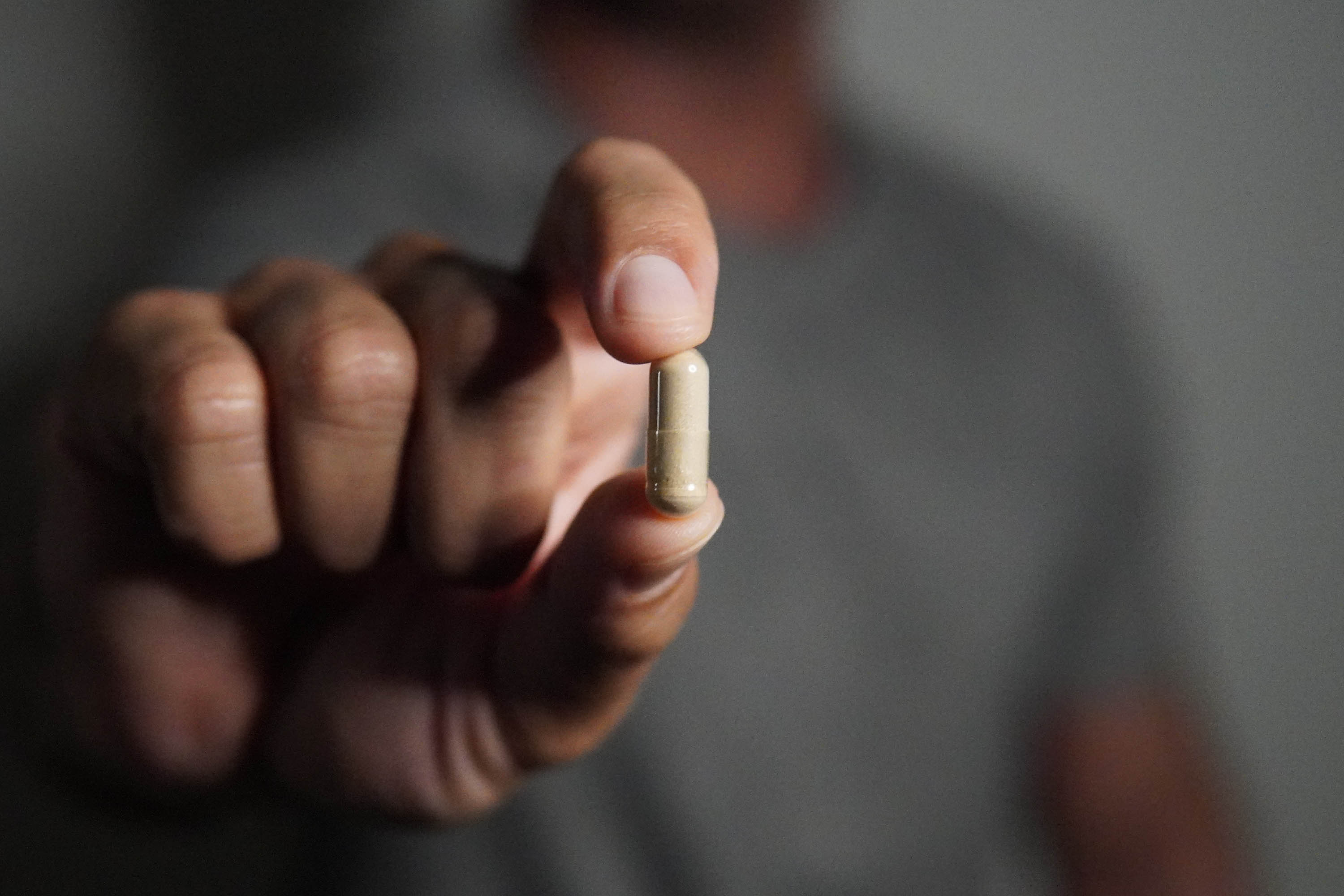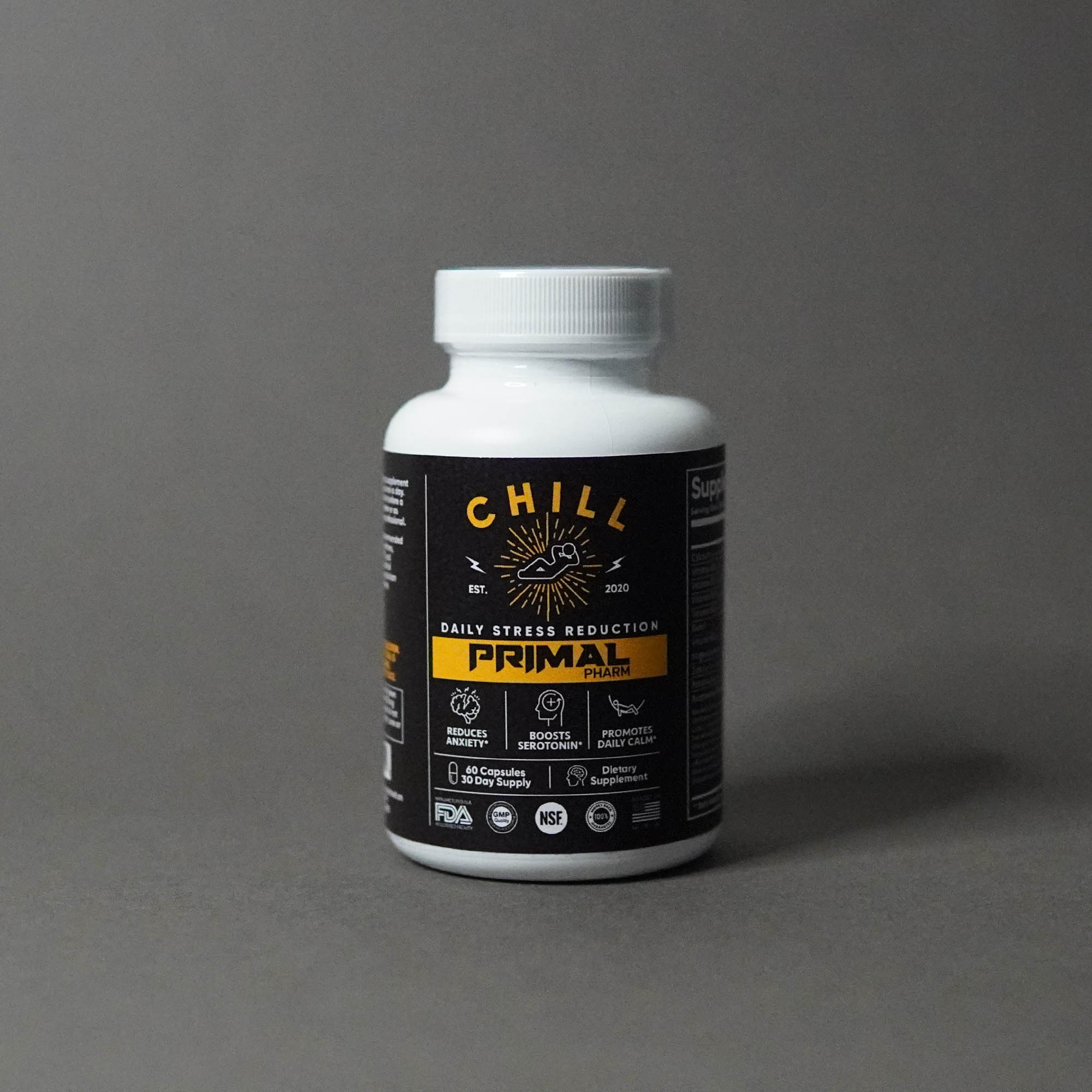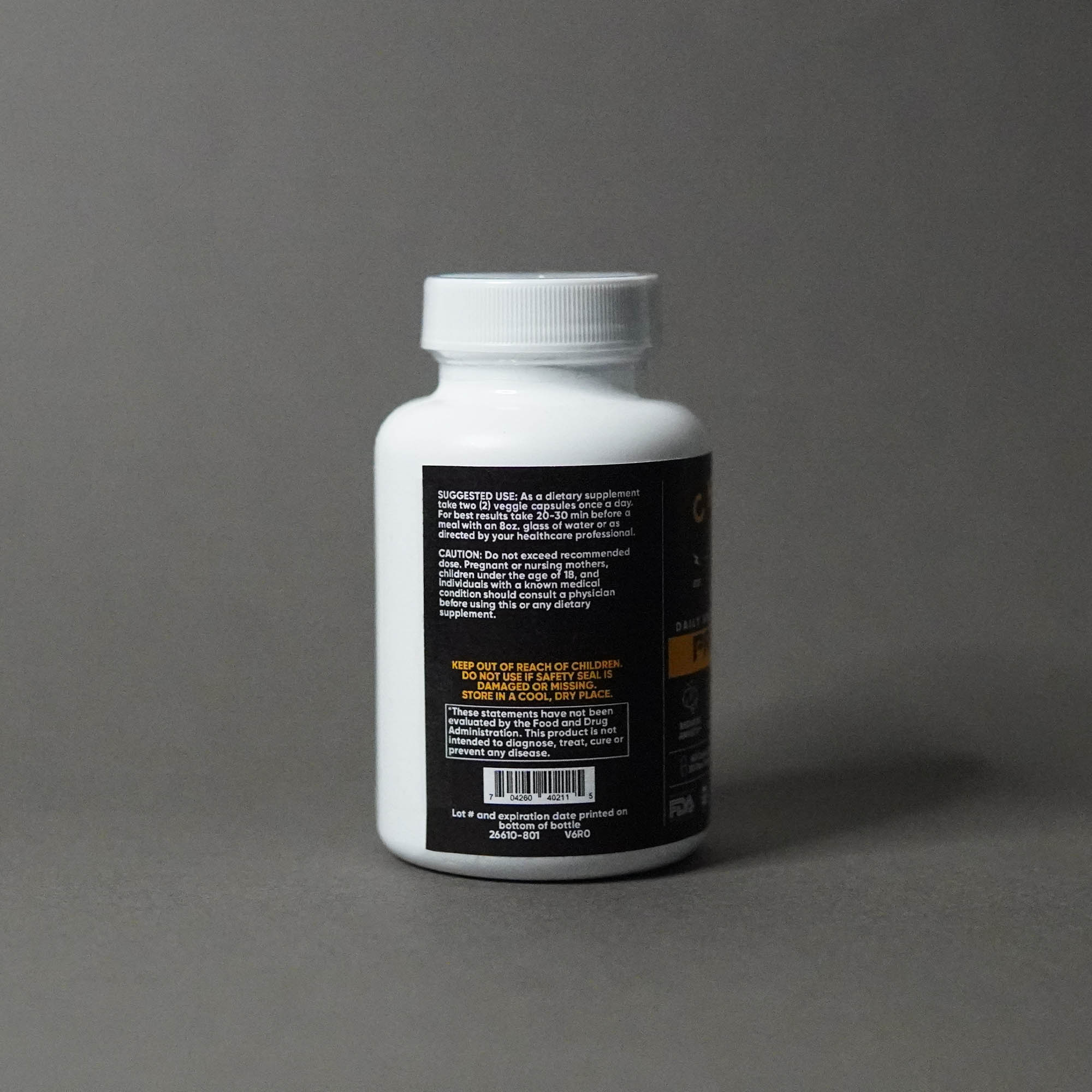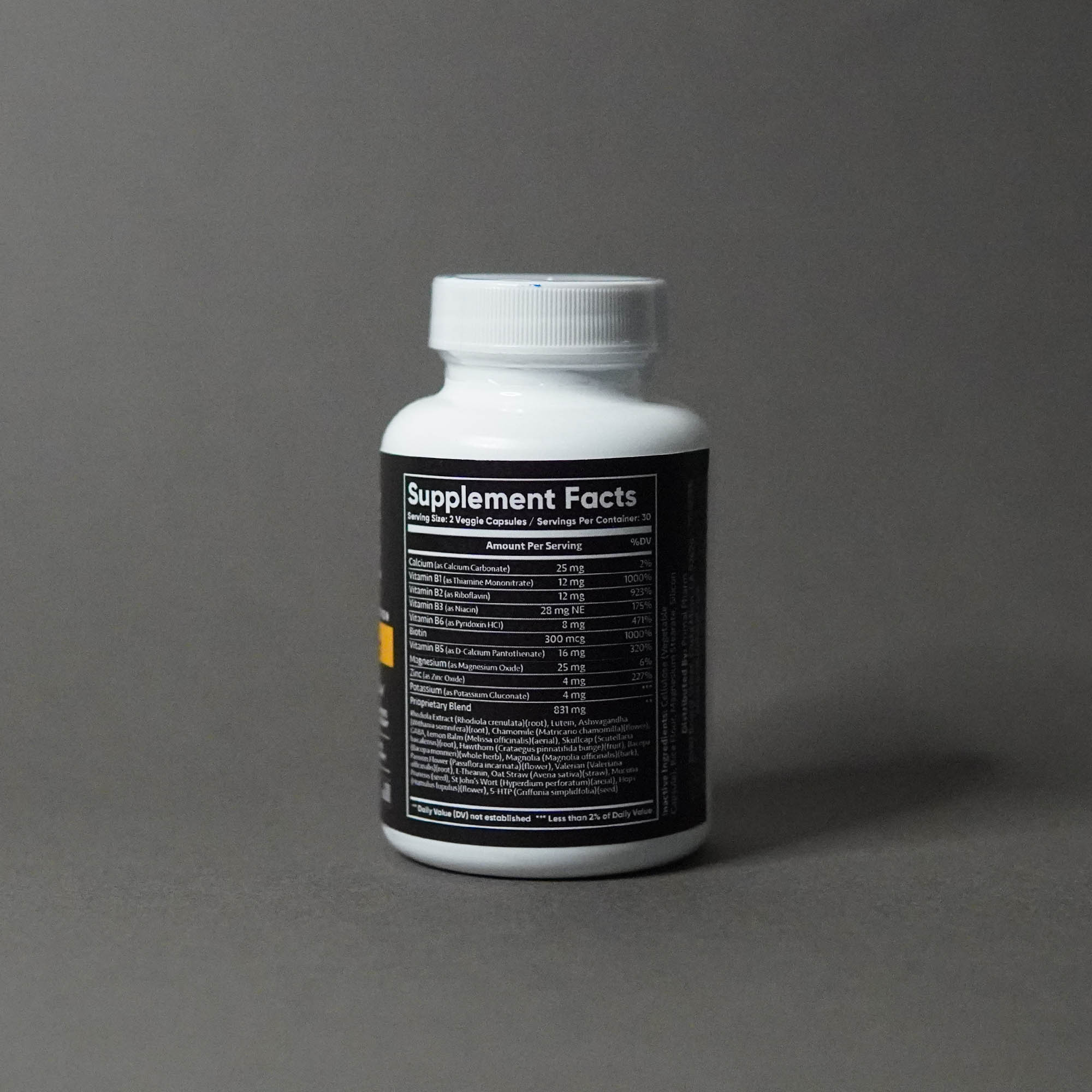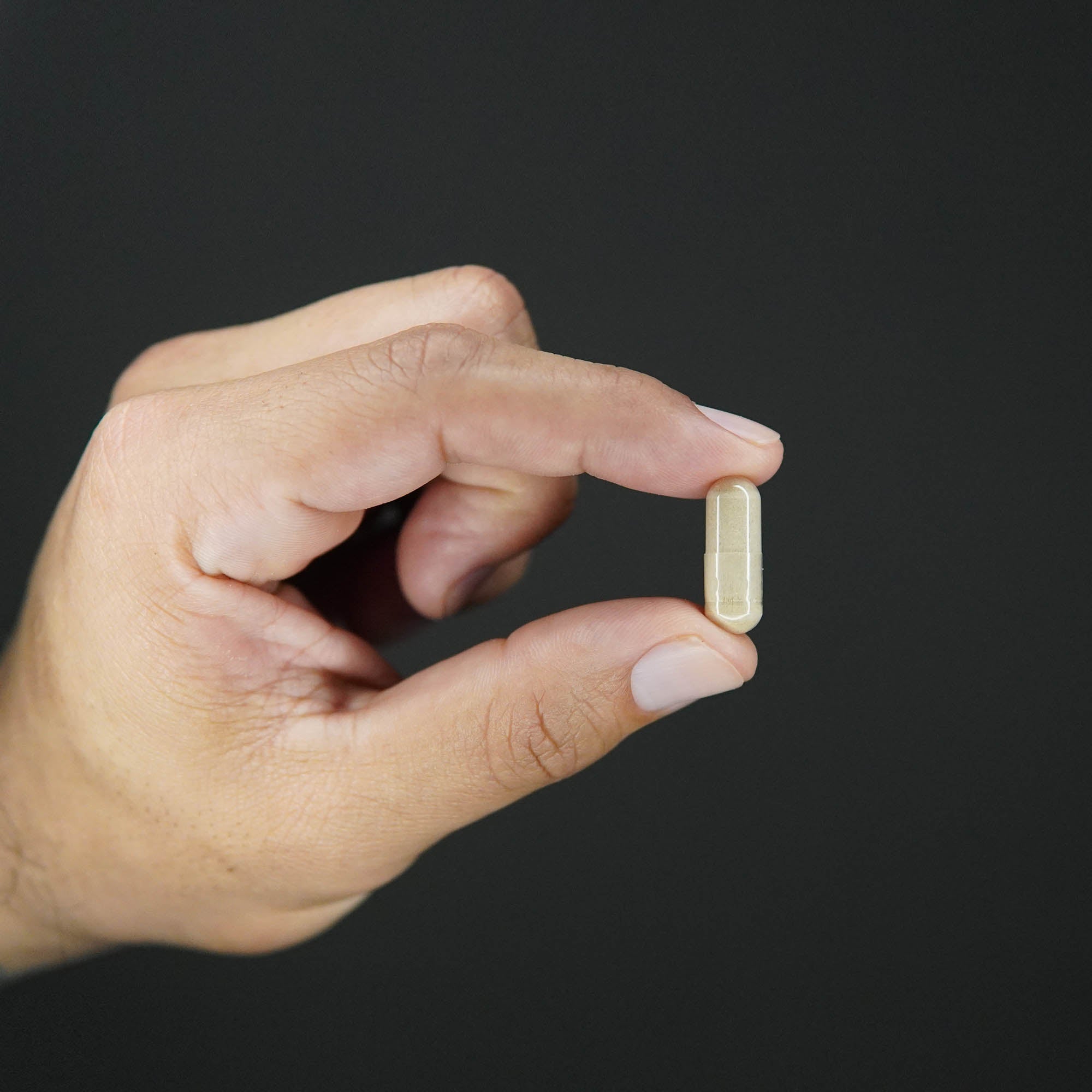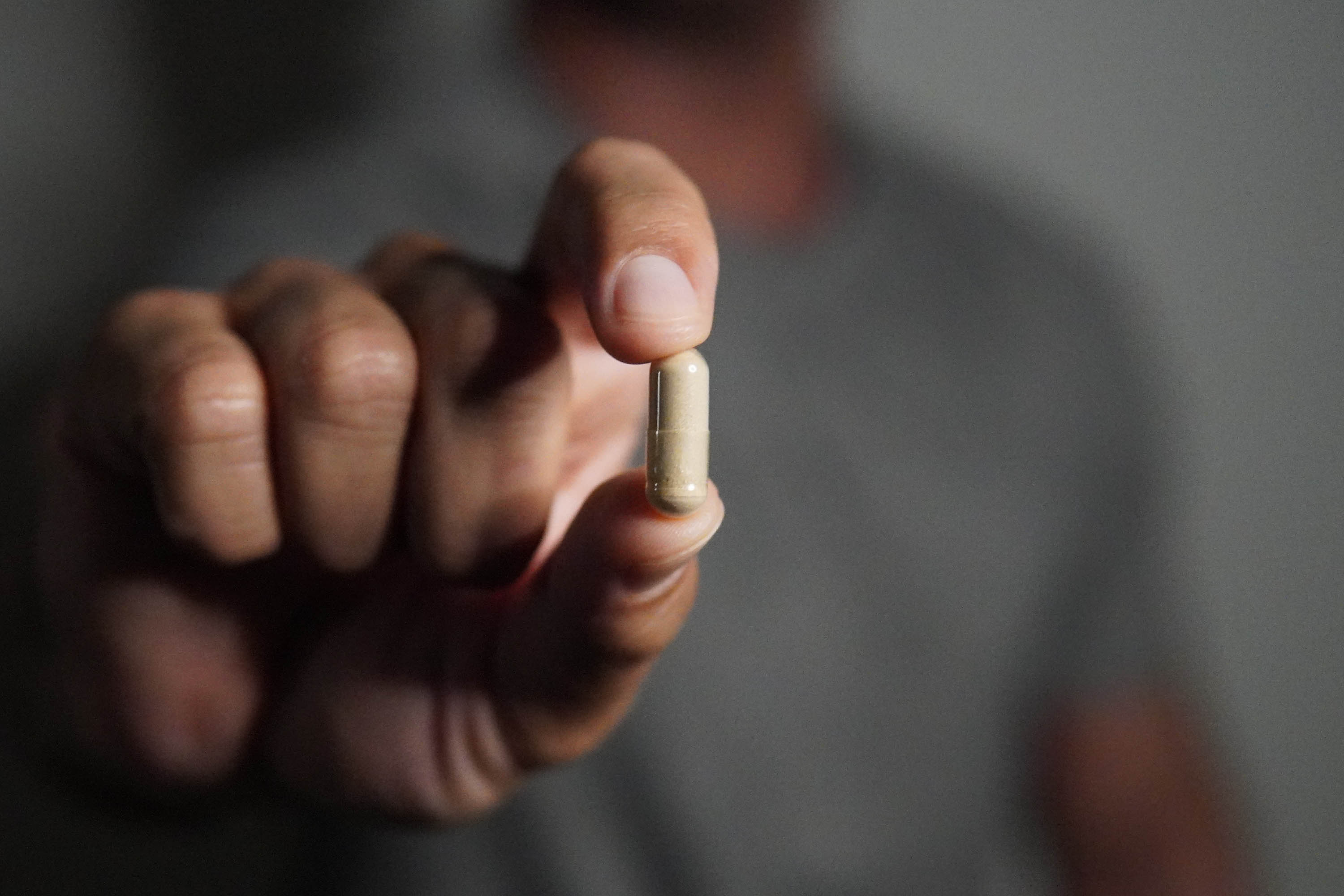 RELAXED AND READY TO TAKE ON ANYTHING
How does CHILL® provide calm, clear thinking so you can make better decisions under pressure?
By providing your body with the nutrients it needs to optimize serotonin levels, the key neurotransmitter in your brain directly correlated to mood, happiness, and a positive outlook (1).
"The results I noticed right away, when I came across a very stressful situation, it kept me calm along with a clear mind."
- Betsy
EMT
Focus, Clarity & Flow State Ignition
REDUCES ANXIETY
Support your body's natural ability to cope with signs of stress, nervousness, anxiousness and stress-related sleep issues.
SUPPORTS STRESS RELATED PERFORMANCE ANXIETY
Contains GABA - A vital neurotransmitter that helps regulate communication between brain cells and promotes production of alpha brain waves while reducing beta waves, which helps with relaxation, mental clarity and performance under pressure.
BOOSTS SEROTONIN
Works with your body to support your body's normal serotonin production, without artificially introducing it. The natural production of serotonin begins with the L-Theanine and 5- HTP when combined with the B-vitamins included, assists the body in generating serotonin.
PROMOTES DAILY CALM
Contains flowers that are known for their calming properties such as Chamomile, Valerian, and Lemon Balm.
Natural, Safe and Clinically-Backed Ingredients
Rhodiola Extract (Rhodiola crenulata)
Studies have shown this powerful adaptogenic herb helps reduce anxiety, depression and fatigue while improving focus, mood and offers feelings of positivity (2,3).
Lemon Balm (Melissa officinalis)
A lemon scented herb shown to deliver a sense of calmness, improve cognition, reduce anxiety and relieve restlessness (4).
Ashwagandha (Withania somnifera)
An ancient adaptogenic herb that has been shown to help reduce stress, inflammation and depression while improving athletic performance, oxygen consumption, muscle growth, brain cognition, memory and sleep (5).
Chamomile (Matricario chamomilla)
Loaded with antioxidants that may help lower your risk of several diseases but is used primarily to help reduce symptoms of depression and improve quality of sleep which is directly correlated to your daily mood (6).
GABA
GABA works as a neurotransmitter in your brain that helps with feelings of anxiety, stress, and fear (7).
Lutein
Lutein is a carotenoid and a potent antioxidant that provides protection against free radicals, particularly in the eyes (8).
Skullcap (Scutellaria baicalensis)
Prized by Native Americans for its powerful medicinal uses as a sedative and to treat conditions like anxiety and convulsions (9).
Hawthorn (Crataegus pinnatifida bunge)
A powerful antioxidant shown to have effects on reversing aging, reducing inflammation and relieving stress and anxiety (10).
Bacopa (Bacopa monnieri)
Used in traditional Ayurvedic medicine to help support learning, memory, manage stress and anxiety, protect the brain, and complete tasks more efficiently (11).
Magnolia (Magnolia officinalis)
Shown to help with many brain disorders and conditions such as stress, anxiety, mood disorders, and depression (12).
Passion Flower (Passiflora incarnata)
Shown to reduce anxiety and boost GABA levels in your brain which is known to help lower brain activity allowing you to relax and sleep better.
Valerian (Valeriana officinalis)
Often referred to as "nature's Valium," since the Middle Ages people used it to treat insomnia. It has also been shown to help you relax and relieve anxiety.
L-Theanine
Research suggests L-Theanine helps reduce stress and anxiety in stressful situations, allowing you to relax without feeling drowsy.
Oat Straw (Avena sativa)
Some studies suggest Oat Straw may improve mood by inhibiting the enzyme PDE4, reducing stress, anxiety, and depression.
Mucuna Pruriens (seed)
Studies have shown Mucuna to be effective in boosting dopamine levels resulting in an antidepressant effect.
St John's Wort (Hyperdium perforatum)
Analysis of clinical studies concluded this herb reduced mild to moderate depression similar to prescription antidepressants.
Hops (Humulus lupulus)
Has been shown promise for relieving anxiety and sleep disorders, but researchers believe Hops can be more effective when combined with valerian.
5-HTP (Griffonia simplidfolia)
Helps boost serotonin production in the brain and is directly correlated to depression, anxiety, sleep disorders, weight gain and other health problems.
Calcium (as Calcium Carbonate) - 25 mg - 2% DV
Without calcium, some key enzymes cannot work efficiently. Adequate levels of Calcium have been shown to help lower blood pressure and improve cholesterol values.
Vitamin B1 (as Thiamine Mononitrate) - 12 mg - 1000% DV
Thiamine is used by your body to produce ATP. Neurons in the brain release ATP to send signals to other active neurons or other cells in the brain.
Vitamin B2 (as Riboflavin) - 12 mg - 923% DV
Vitamin B-2 and the other B vitamins help your body build red blood cells and support other cellular functions that give you energy.
Vitamin B3 (as Niacin) - 28 mg NE - 175% DV
Your brain needs niacin to get energy and function properly. Deficiency in niacin have been associated with brain fog and even psychiatric symptoms.
Vitamin B6 (as Pyridoxin HCI) - 8 mg - 471% DV
Important in mood regulation, this vitamin is necessary for creating neurotransmitters that regulate emotions, including serotonin, dopamine and GABA.
Biotin - 300 mcg - 1000% DV
Biotin plays a crucial role in converting certain nutrients into energy. It is an important component of enzymes involved in metabolizing fats and carbohydrates for cell growth and protein synthesis.
Vitamin B5 (as D-Calcium Pantothenate) - 16 mg - 320% DV
Vitamin B5 offers protection against mental and physical stress, anxiety, and helping reduce chronic fatigue syndrome.
Magnesium (as Magnesium Oxide) - 25 mg - 6% DV
Shown to support a sense of muscular and physical calm, magnesium is commonly used to combat occasional stress and restlessness.
Zinc (as Zinc Oxide) - 4 mg - 227% DV
Zinc maintains healthy nervous system function, especially looking after the vagus nerve through which messages of 'calm' are transported and easing anxiety.
Potassium (as Potassium Gluconate) - 4 mg
Potassium help you maintain healthy nerve function. Decreased levels of potassium can affect the body's ability to generate a nerve impulses.
Transparent Ingredients Supported By Honest Studies
1. Simon N. Young, (November 2007). "How to increase serotonin in the human brain without drugs". US National Library of Medicine National Institutes of Health.

2. Alexander Bystritsky, (March 2008). "A pilot study of Rhodiola rosea (Rhodax) for generalized anxiety disorder (GAD)". National Library Of Medicine.

3. Sana Ishaque, (May 2012). "Rhodiola rosea for physical and mental fatigue". National Library Of Medicine.

4. Andrew Scholey, (October 2014). "Anti-Stress Effects of Lemon Balm". National Library Of Medicine.

5. Diego A. Bonilla, (February 2021). "Effects of Ashwagandha (Withania somnifera) on Physical Performance". National Library Of Medicine.

6. Janmejai K Srivastava, (February 2011). "Chamomile: A herbal medicine of the past with bright future". National Library Of Medicine.

7. Philippe Nuss, (January 2015). "Anxiety disorders and GABA neurotransmission". National Library Of Medicine.

8. Silvio Buscemi, (September 2018). "The Effect of Lutein on Eye and Extra-Eye Health". National Library Of Medicine.

9.R Awad, (November 2003). "Phytochemical and biological analysis of skullcap (Scutellaria lateriflora L.): a medicinal plant with anxiolytic properties". National Library Of Medicine.

10. Jie Wang, (December 2013). "Effect of Crataegus Usage in Cardiovascular Disease Prevention: An Evidence-Based Approach". National Library Of Medicine.

11. Carlo Calabrese, (July 2008). "Effects of a Standardized Bacopa monnieri Extract on Cognitive Performance, Anxiety, and Depression in the Elderly". National Library Of Medicine.

Suggested Use: As a dietary supplement take two (2) veggie capsules once a day. For best results take 20-30 min before a meal with an 8oz. glass of water or as directed by your healthcare professional.
CAUTION: Do not exceed recommended dose. Pregnant or nursing mothers, children under the age of 18, and individuals with a known medical condition should consult a physician before using this or any dietary supplement.
Helped My Anger
It helped me curb anger issues that were arising with the stresses of life. Anytime Id usually find myself winding up with frustration I had this new wherewithal and calmness to understand I didnt need to act upon the emotion.
I Recommend this to my mom
Im such a big fan of this I gave my mom some! I have to take it earlier in the day because my mind keeps me up if I take it before bed. Thats just me though. I stand by this product. I will always keep this in the inventory!
Exactly what I needed!
Very simply it stops my mind from wondering when I lay down and I go to sleep, even my wife commented that she could tell I was sleeping better!
AWESOME PRODUCT!!!!
After only a week of using the CHILL stress formula me and my co-workers have noticed that Ive been more CHILL this actually works great!
Very helpful
I recommend this product to anyone who is feeling low or has had a very big night. It works so well and I havent had any complaints ,only compliments.
Another Tool
I was taking just PERFORM for a while, then I added CHILL to the equation and life took a turn for the goals. Day to day I got more done, focused, with efficiency and flow. I love Primal Pharm.
CHILL is where its at!
I have been using CHILL or rather supplements with the main ingredient 5-htp for years and I have found this particular brand to be a good one. Highly recommended it. Great for if your training and or working hard off not much sleep, really helps you get through the day!
Works better than expected
I ordered for the 5-HTP component and find that I use it every evening before bed to help me sleep. I have slept noticeably better since taking CHILL before bed.
My CHILL
Seems to be working Im sleeping better and not so edgy with other people at work.
Hit The Reset
I find it very effective in resetting my mood at the end of an aggravating day! I only take one capsule with a light snack - I dont usually need to take adult doses for my physiology. It helps me to relax and enjoy my evening without fixating on my day. I fall asleep easily and wake up more positive and less apathetic!
*These statements have not been evaluated by the Food and Drug Administration. This product is not intended to diagnose, treat, cure or prevent any disease.