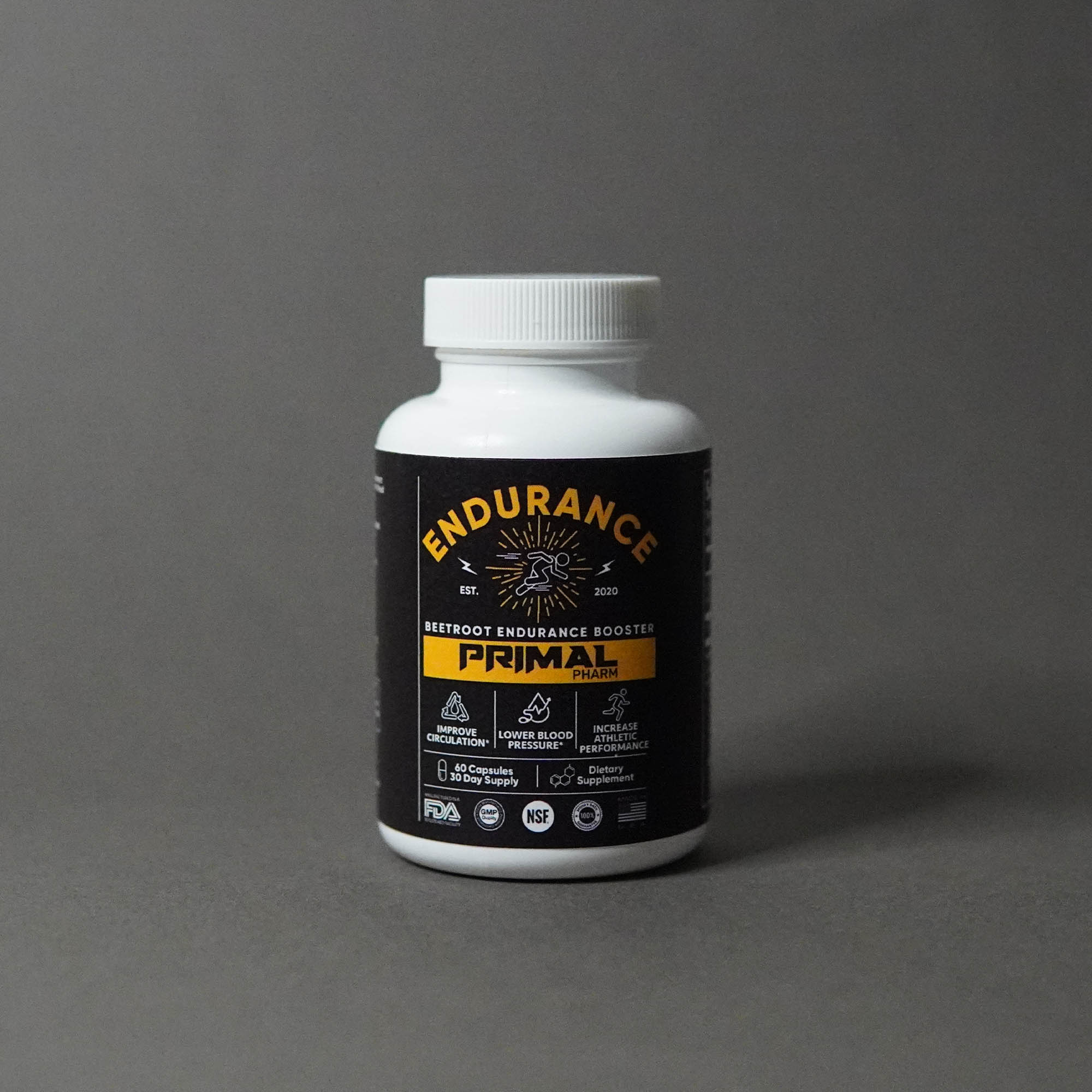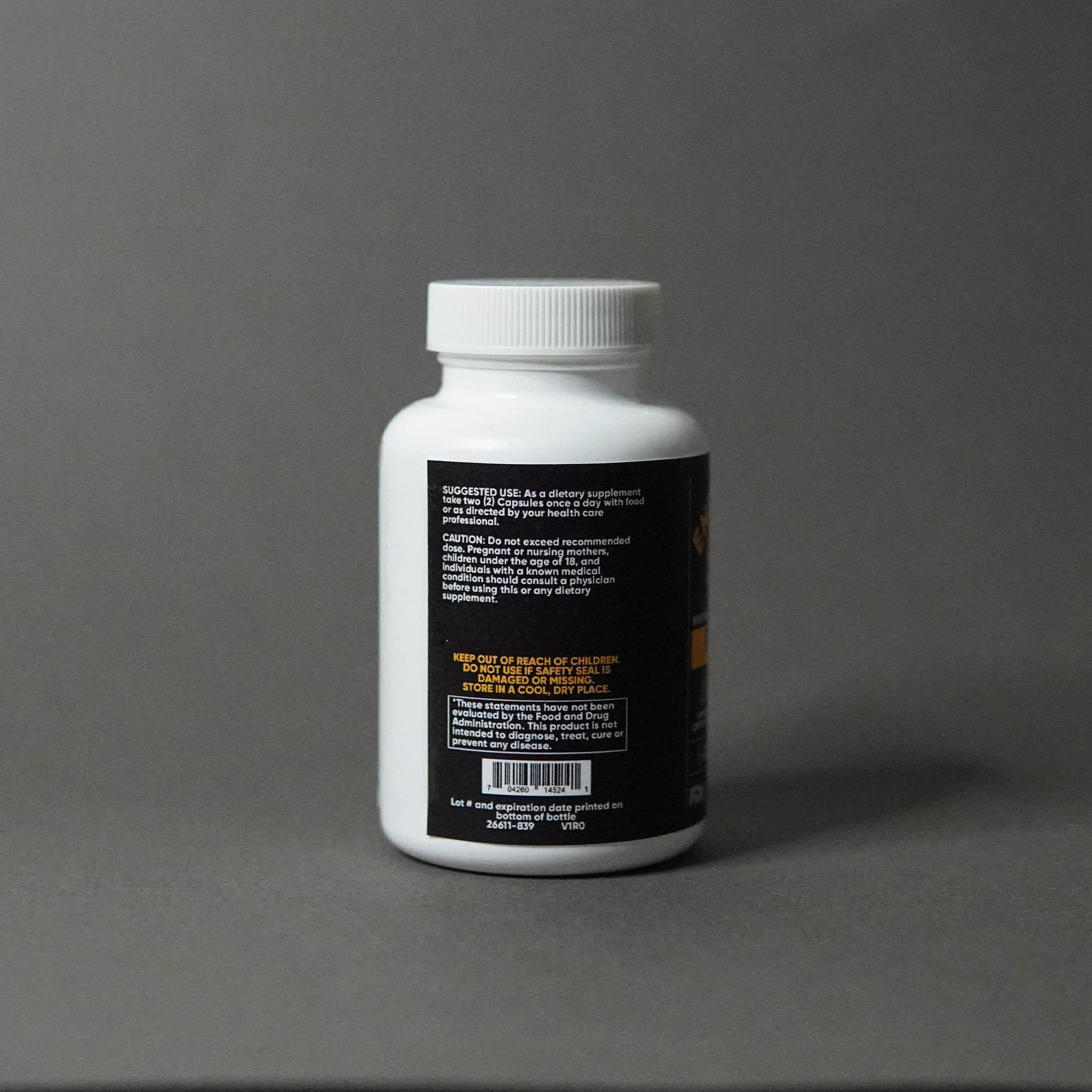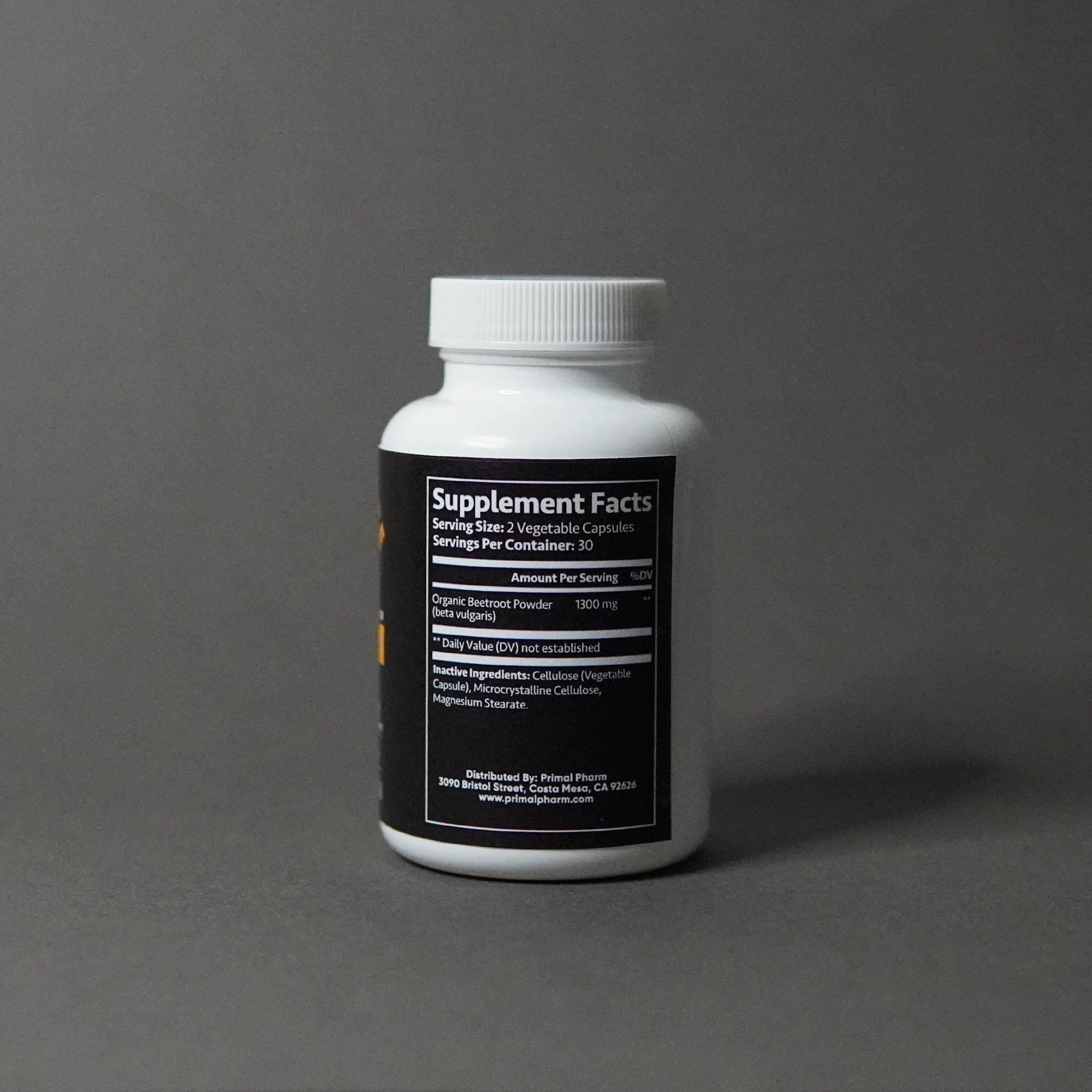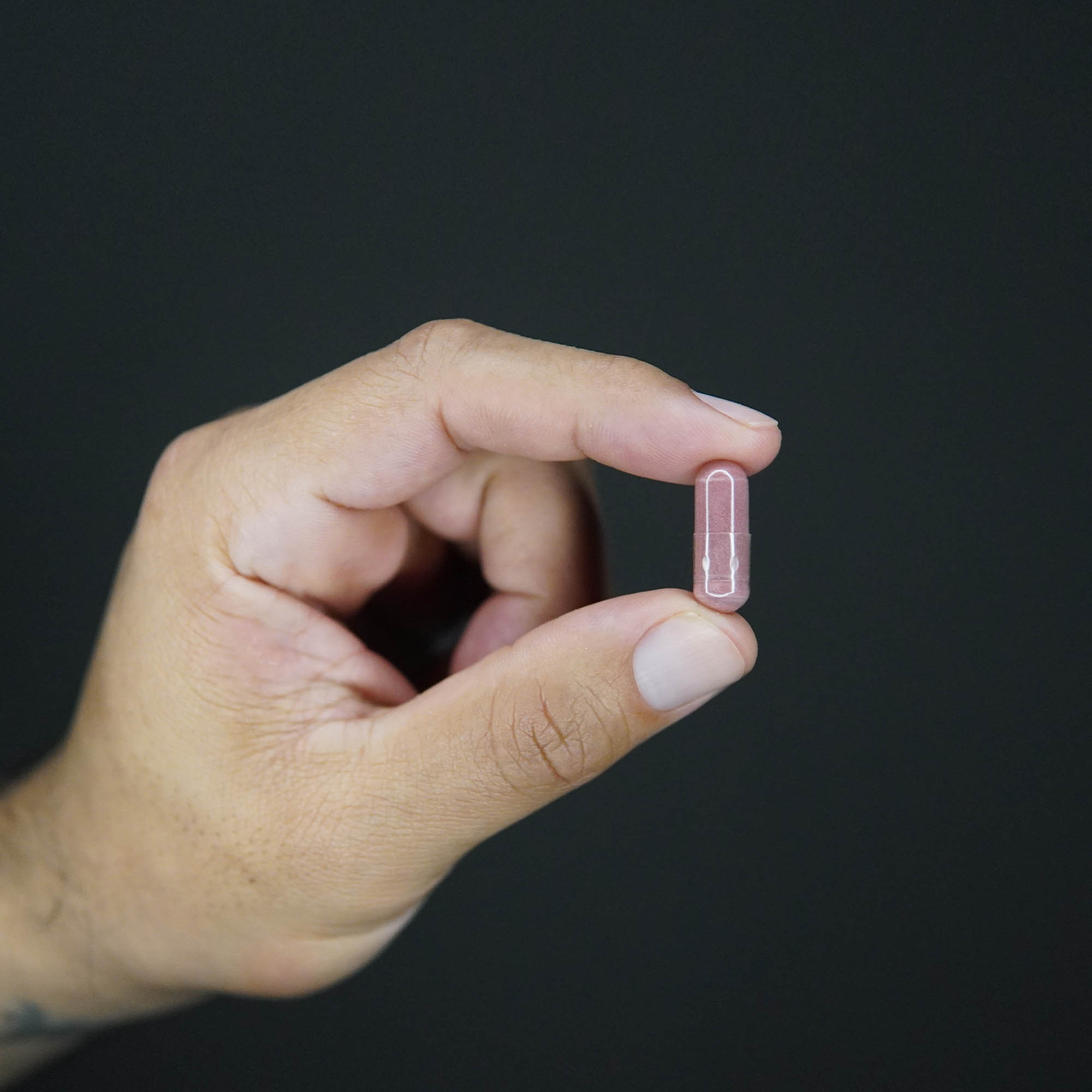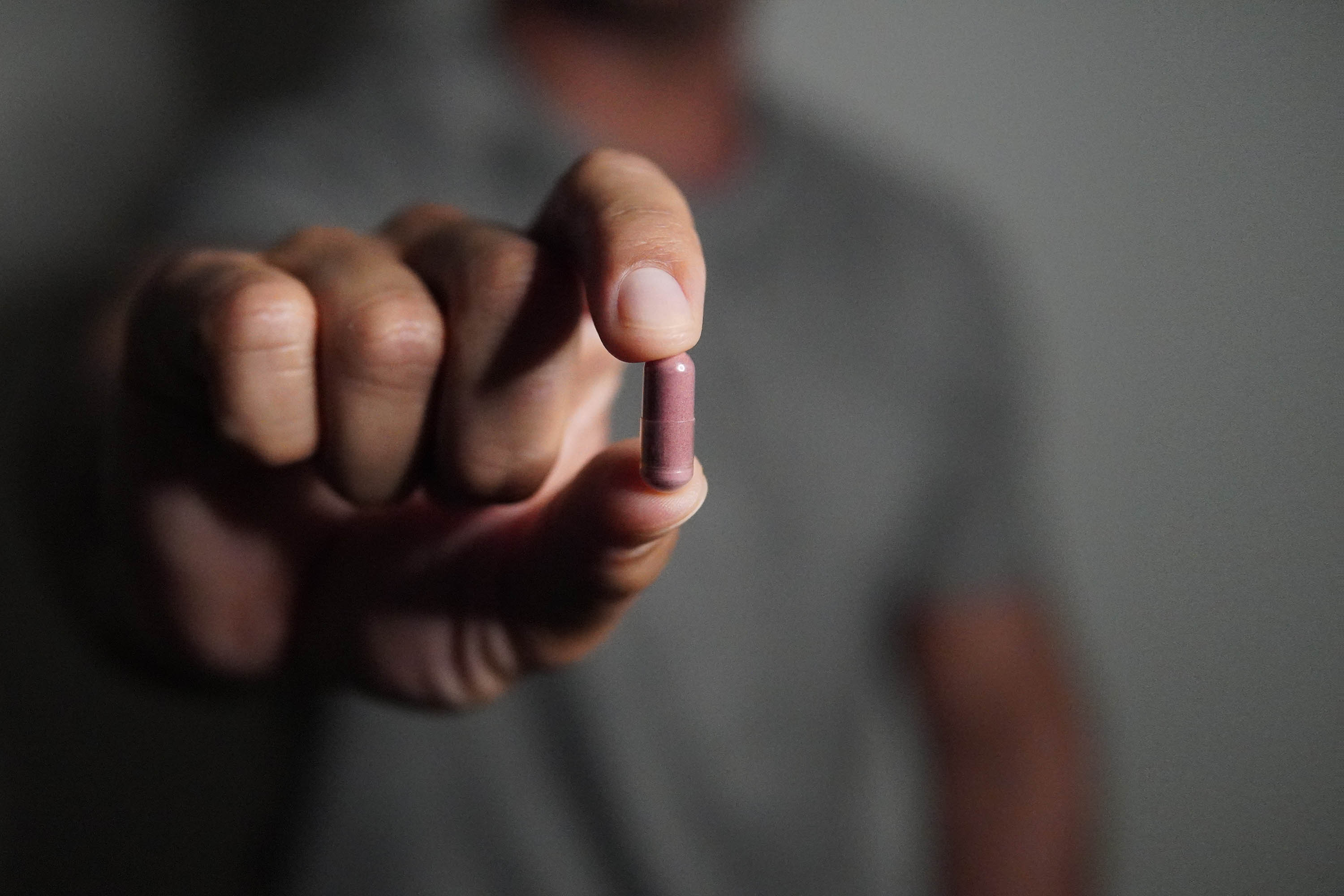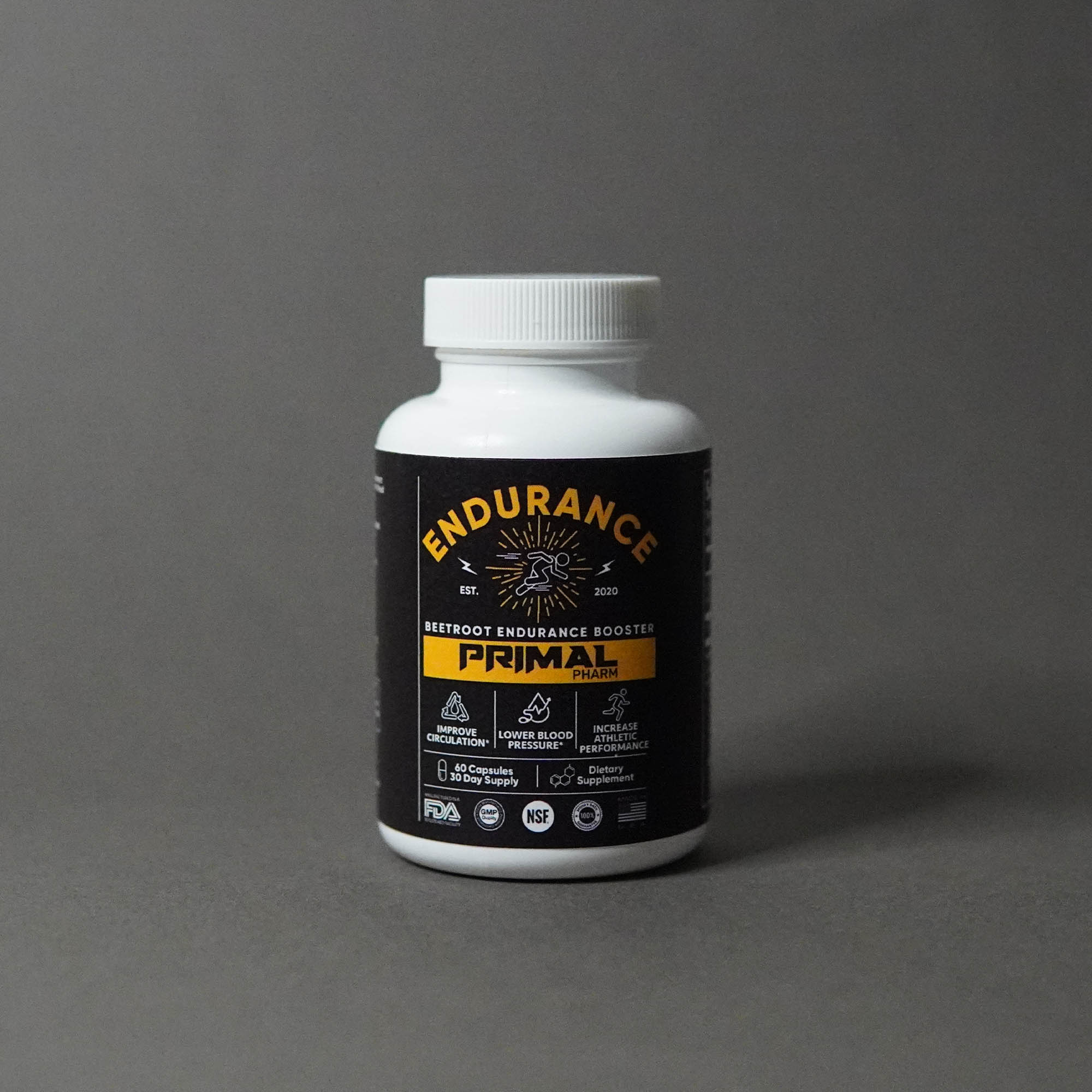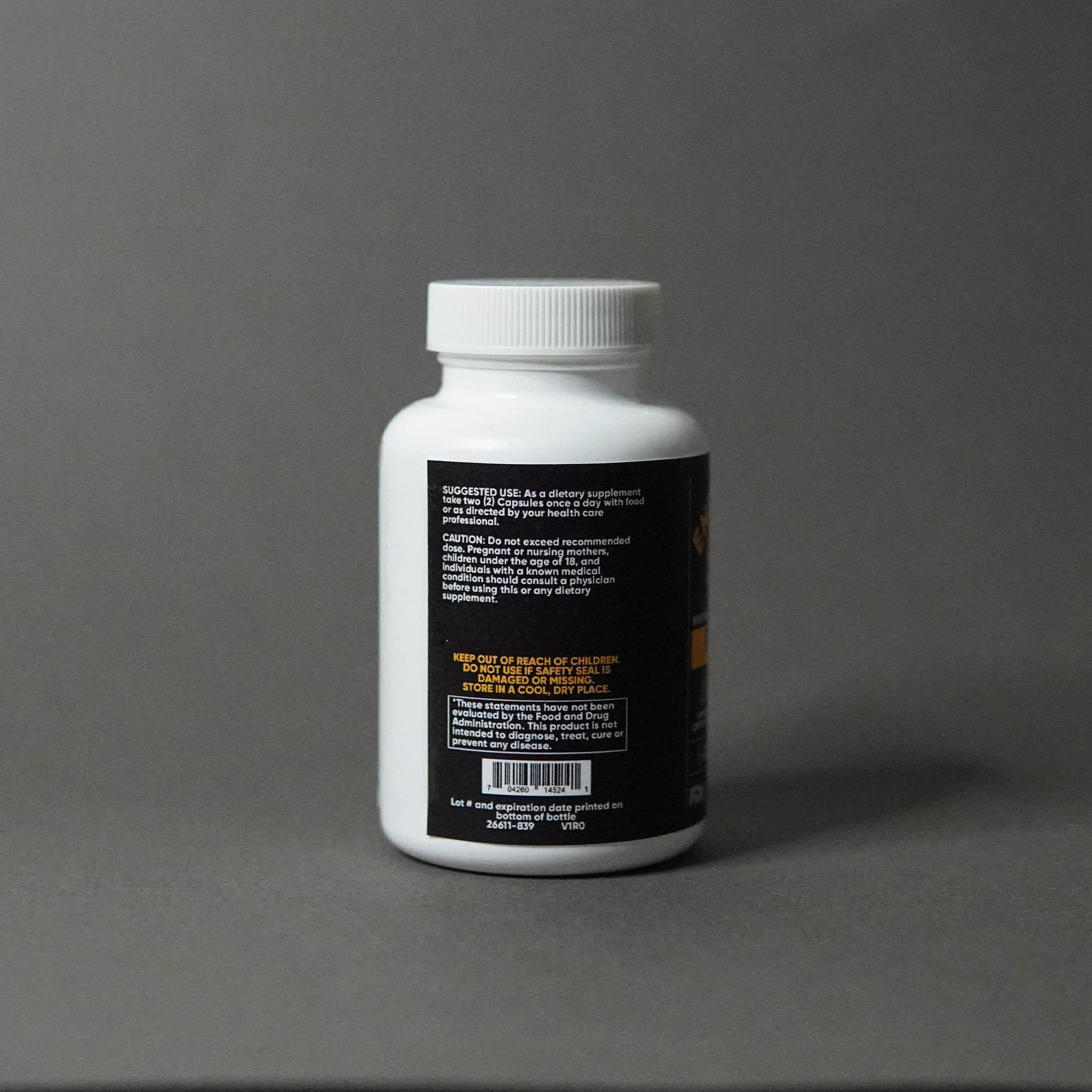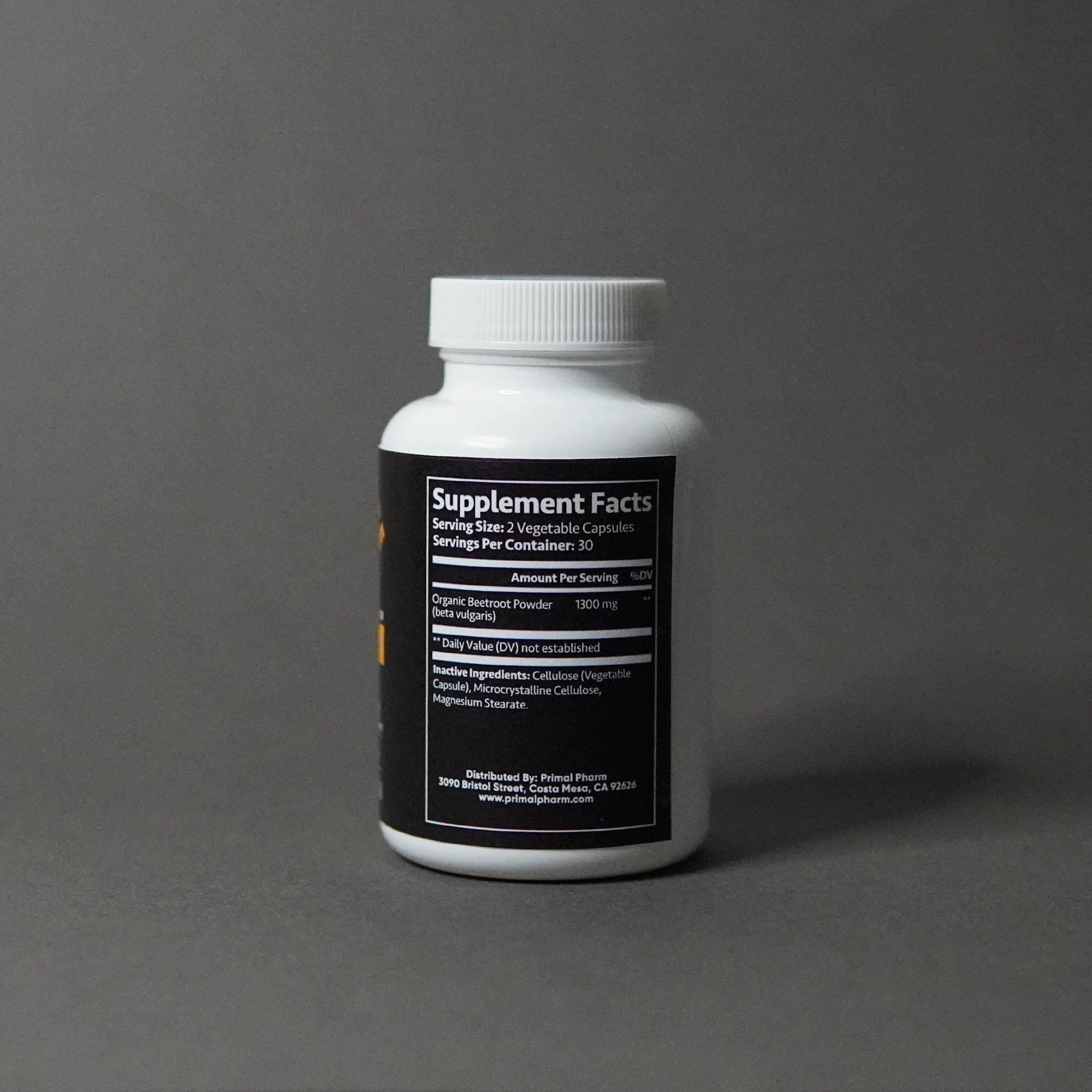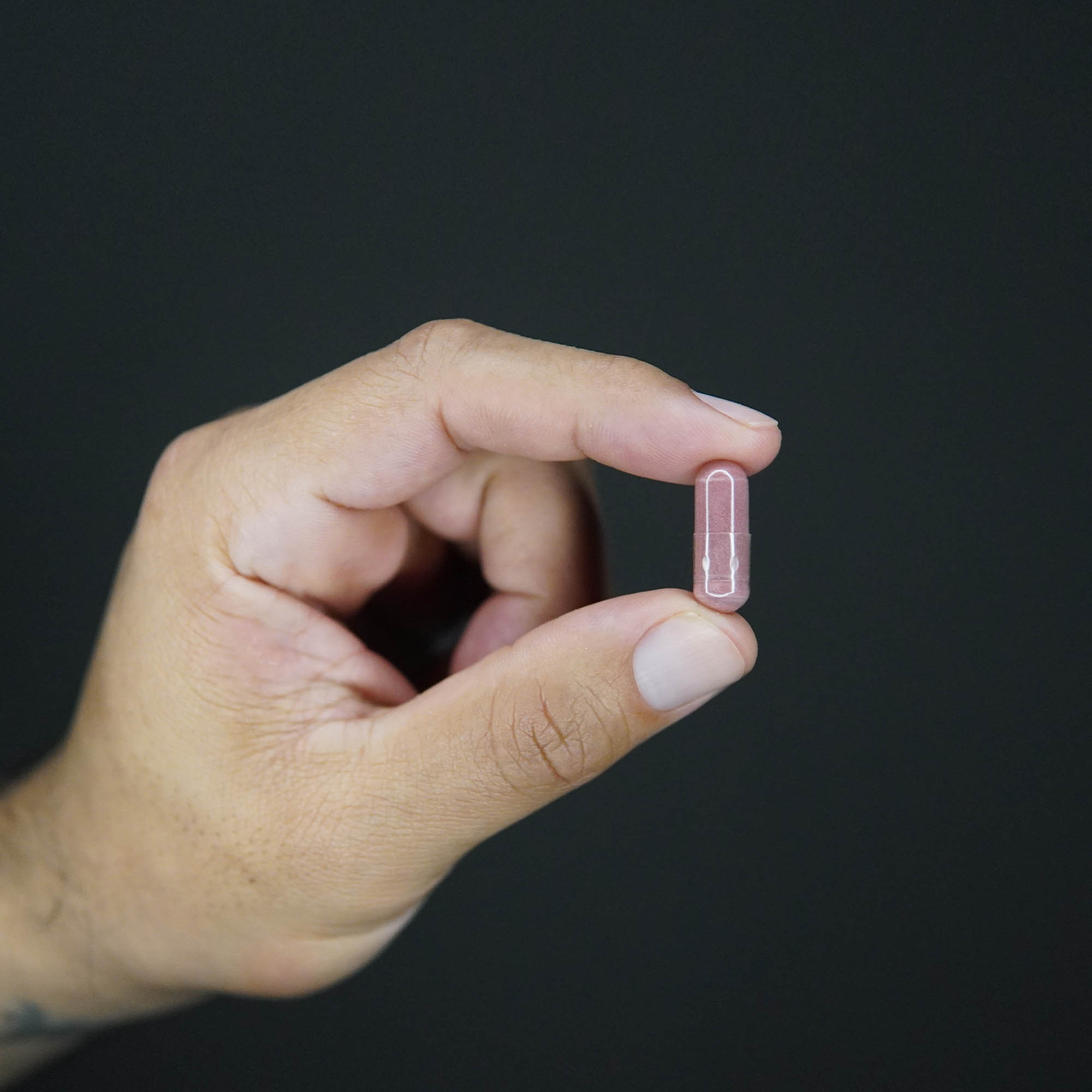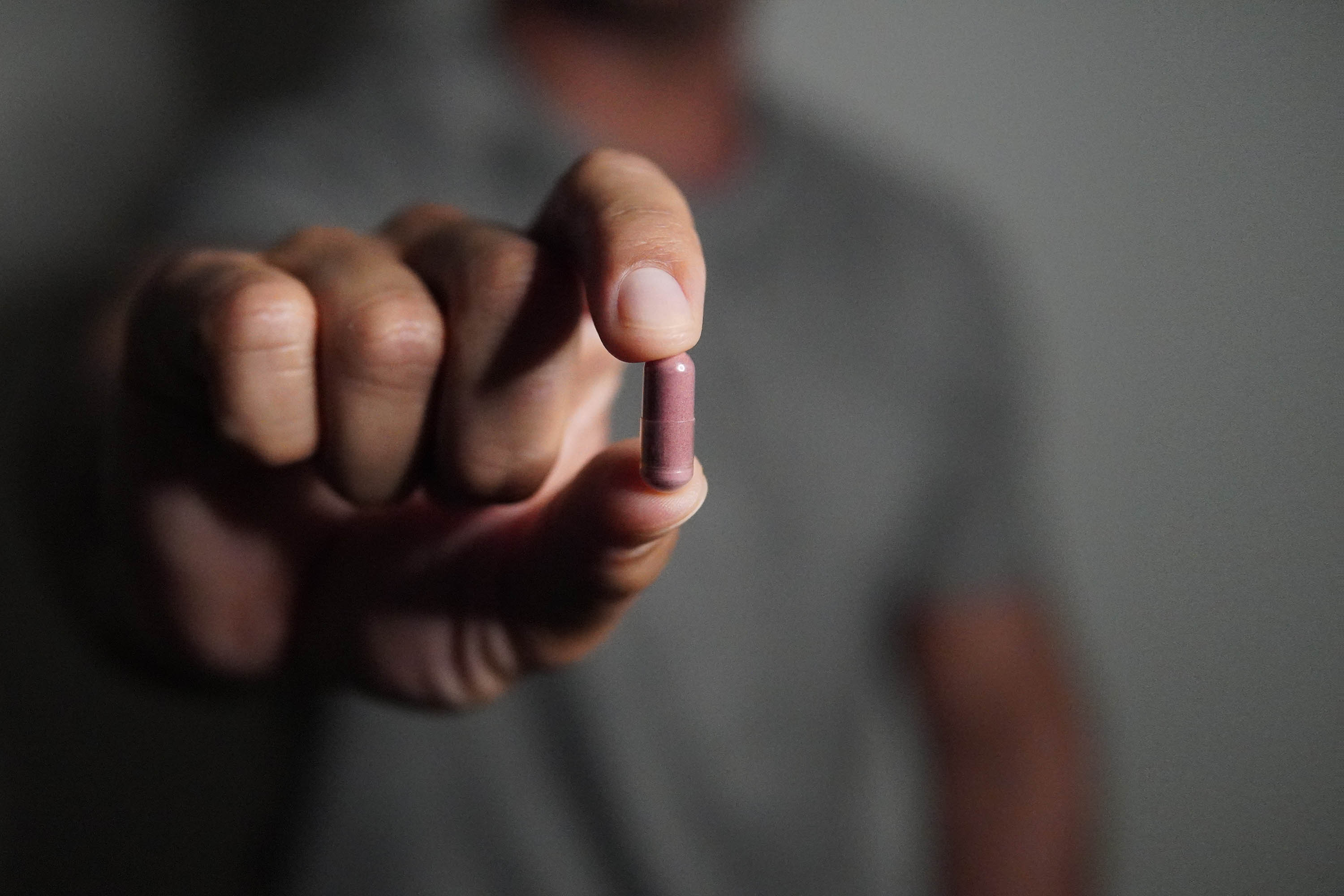 How does ENDURANCE® work?
Primal Pharm's ENDURANCE® contains beetroot powder, containing dense natural compounds called nitrates. Through specific chain reactions in your body, these nitrates are then converted into nitric oxide.
Nitric oxide is known to help relax and widen your blood vessels, lower blood pressure, increase the delivery of essential nutrients and oxygen to your muscles, improve brain cognition, boost energy and improve exercise performance.
Athletic Performance & Circulation
BOOST ATHLETIC PERFORMANCE
Beet Root Powder enhances athletic performance by improving oxygen use and endurance. In one study, beet root powder has been shown to improve cycling performance and increase oxygen use by up to 20%.
IMPROVE COGNITION
Beet root may promote brain health and help boost memory and cognition. The nitrates in beets may improve brain function by promoting the dilation of blood vessels and thus increasing blood flow to the brain. Particularly, beets have been shown to improve blood flow to the frontal lobe of the brain, an area associated with higher level thinking like decision making and working memory.
IMPROVE BLOOD PRESSURE
These blood-pressure-lowering effects of Beet Root Powder are likely due to the high concentration of nitrates in this root vegetable. In your body, dietary nitrates are converted into nitric oxide, a molecule that dilates blood vessels and causes blood pressure levels to drop. Beets are also a great source of folate. Although research has turned up mixed results, several studies suggest that increasing your intake of folate could significantly lower blood pressure levels.
Natural, Safe and Clinically-Backed Ingredients
ORGANIC BEETROOT POWDER (BETA VULGARIS) - 1300 MG
Intensely rich in natural compounds called nitrates, research shows beetroot may boost stamina to help you exercise longer, improve blood flow, and help lower blood pressure. Additional benefits include aiding in digestion, slowing the progression of dementia, as well as improving heart health.
Suggested Use: As a dietary supplement take two (2) Capsules once a day with food or as directed by your health care professional.
CAUTION: Do not exceed recommended dose. Pregnant or nursing mothers, children under the age of 18, and individuals with a known medical condition should consult a physician before using this or any dietary supplement.
I can feel the difference
I take it one hour before the gym feels like a natural pre workout great blood flow and pump
Impressed
Highest quality Beet root product I have ever tried. Love it. good work!
They know their stuff
I was very happy to have found this product and even happier when it arrived and I tried it. They have earned by future business for sure.
More energy
I have been taking this for a month every day and I really do feel like I have more natural energy to get through the day. Love it
Beet root energy
I have love Endurance! I can tell a difference in my energy level when I forget to take it in the morning. I am definitely a believer and I'm hooked.
My new go to
Feeling alot better since using this product. More energy, and better digestion.
Super Boost
Noticeable ,Tangible Energy & Oxygen increas. Helps in Hiking & Physical tasks
My second order
On my second order now, I should probably start buying in bulk :)
*These statements have not been evaluated by the Food and Drug Administration. This product is not intended to diagnose, treat, cure or prevent any disease.