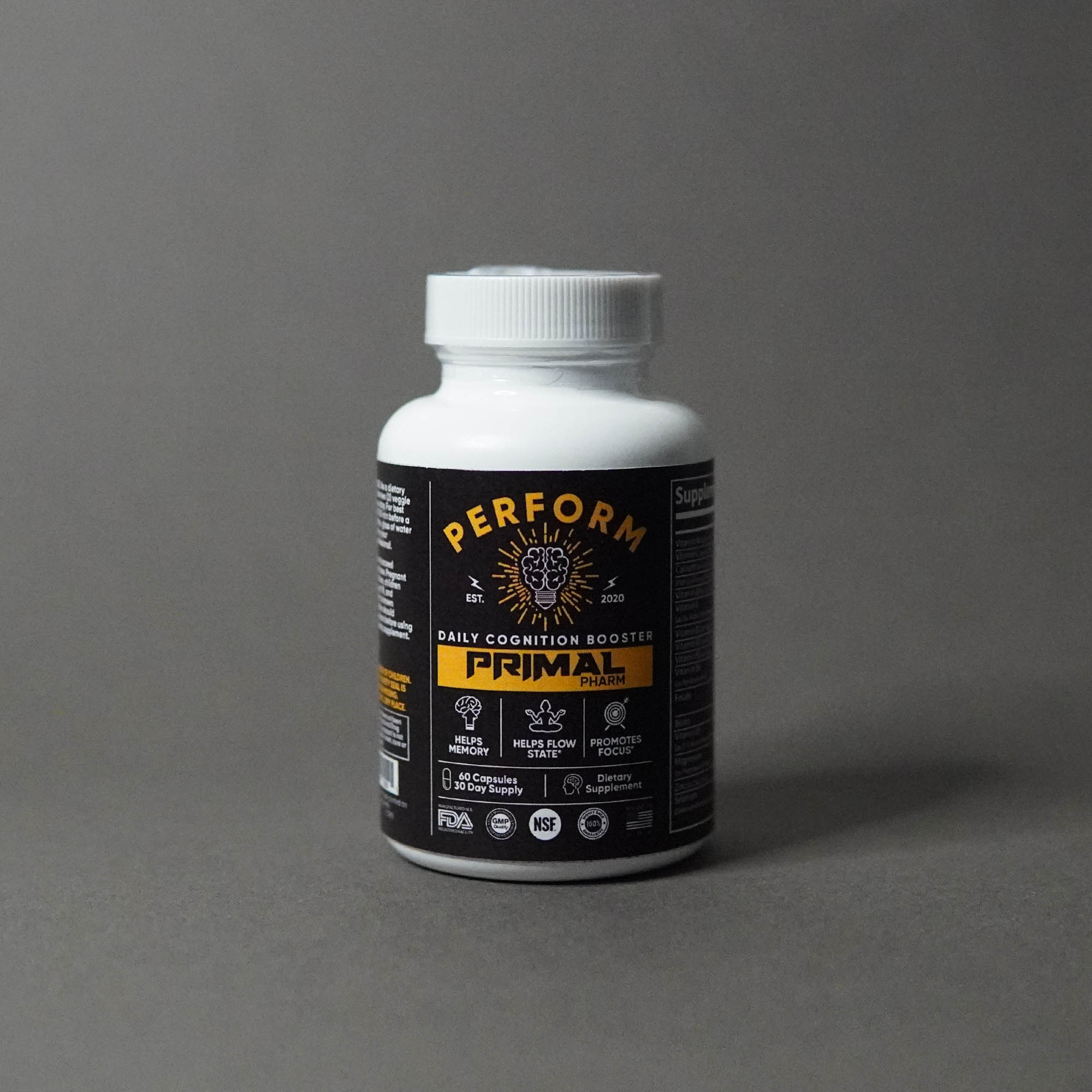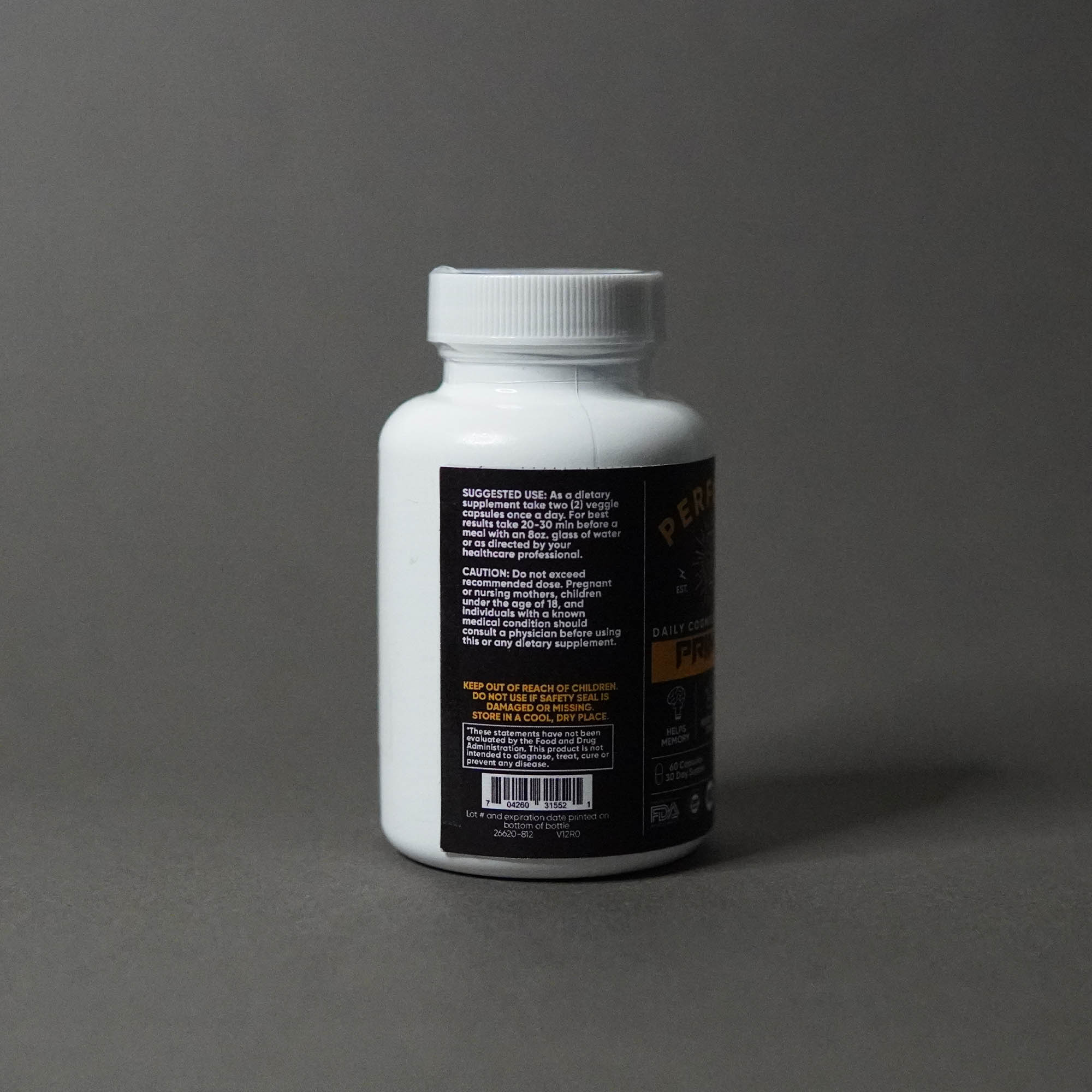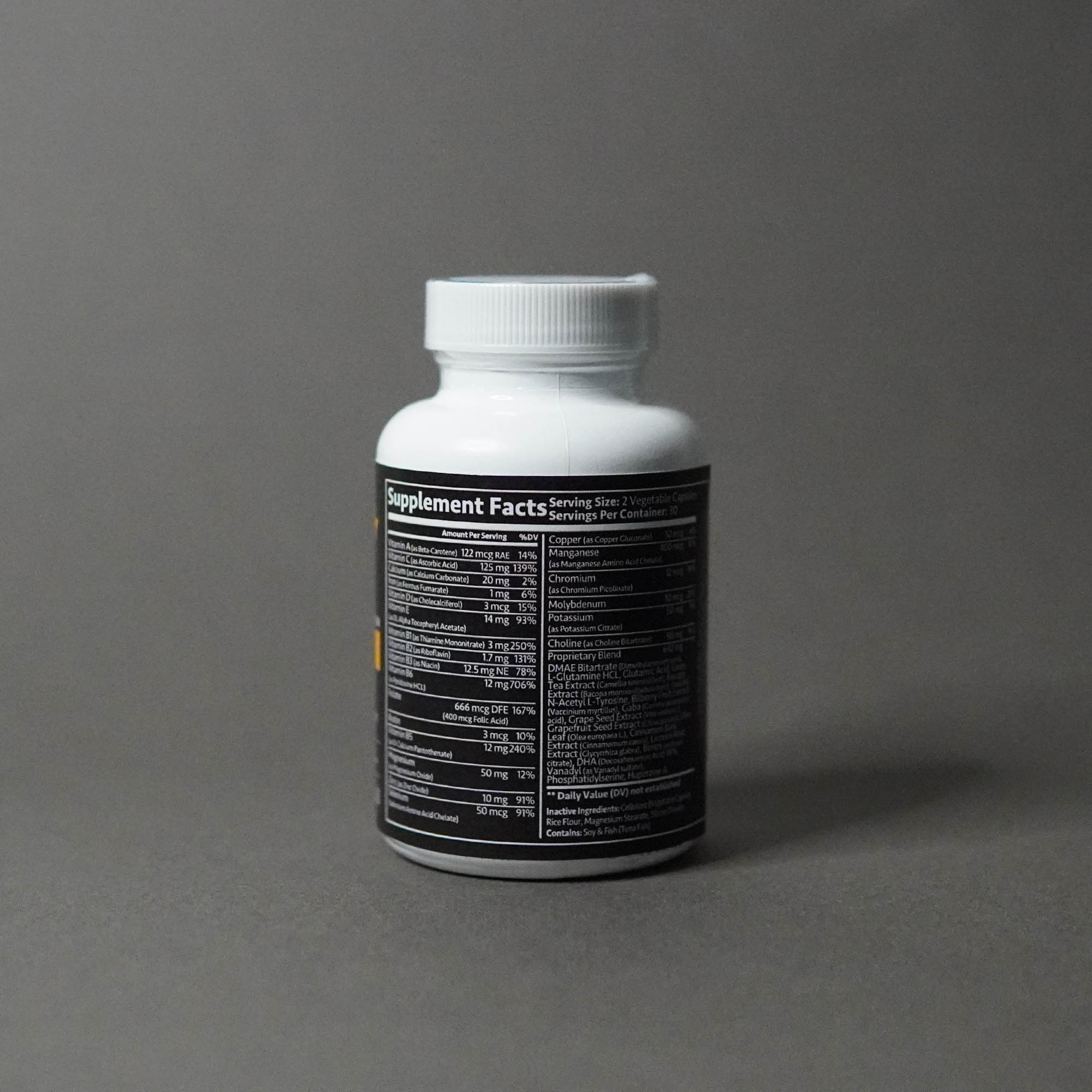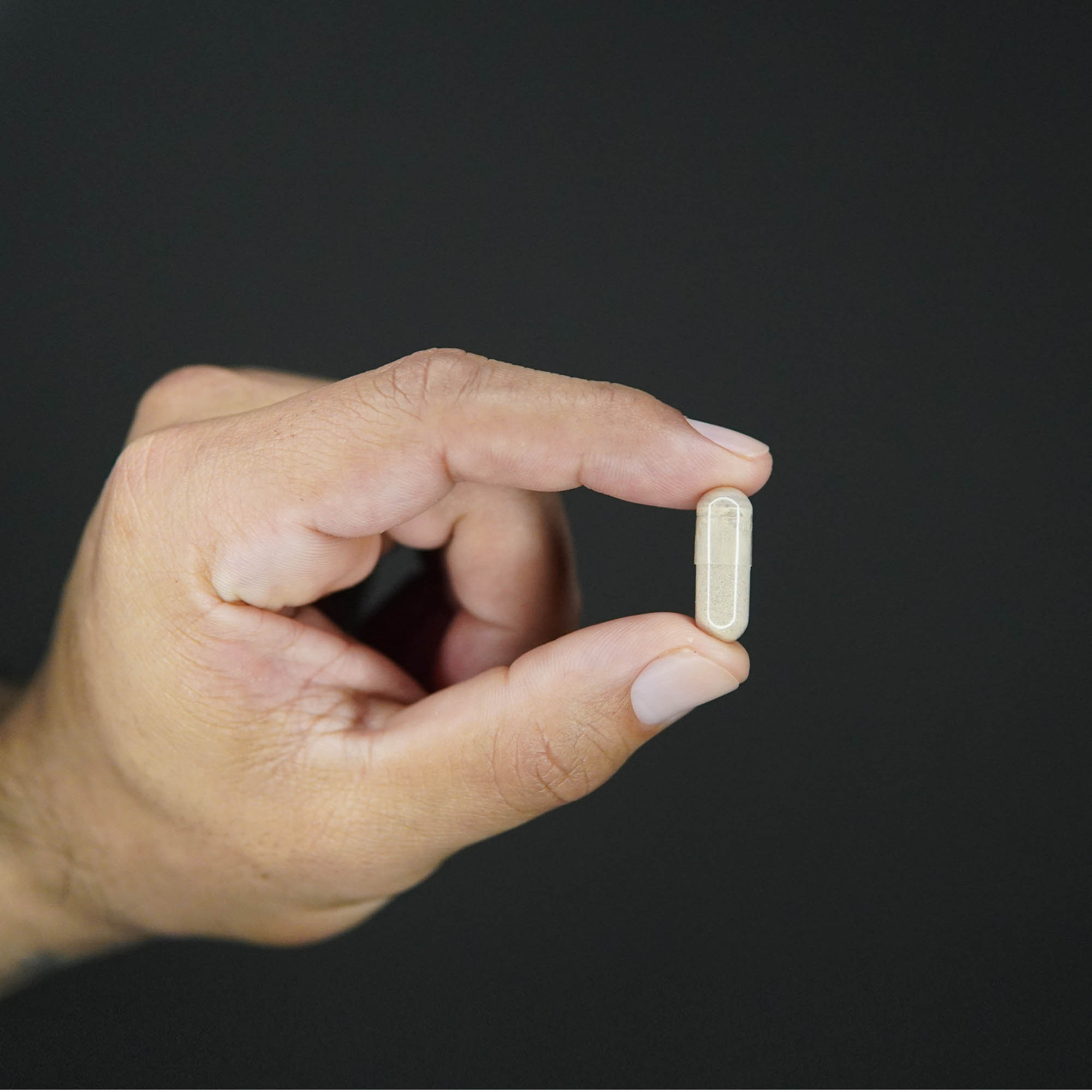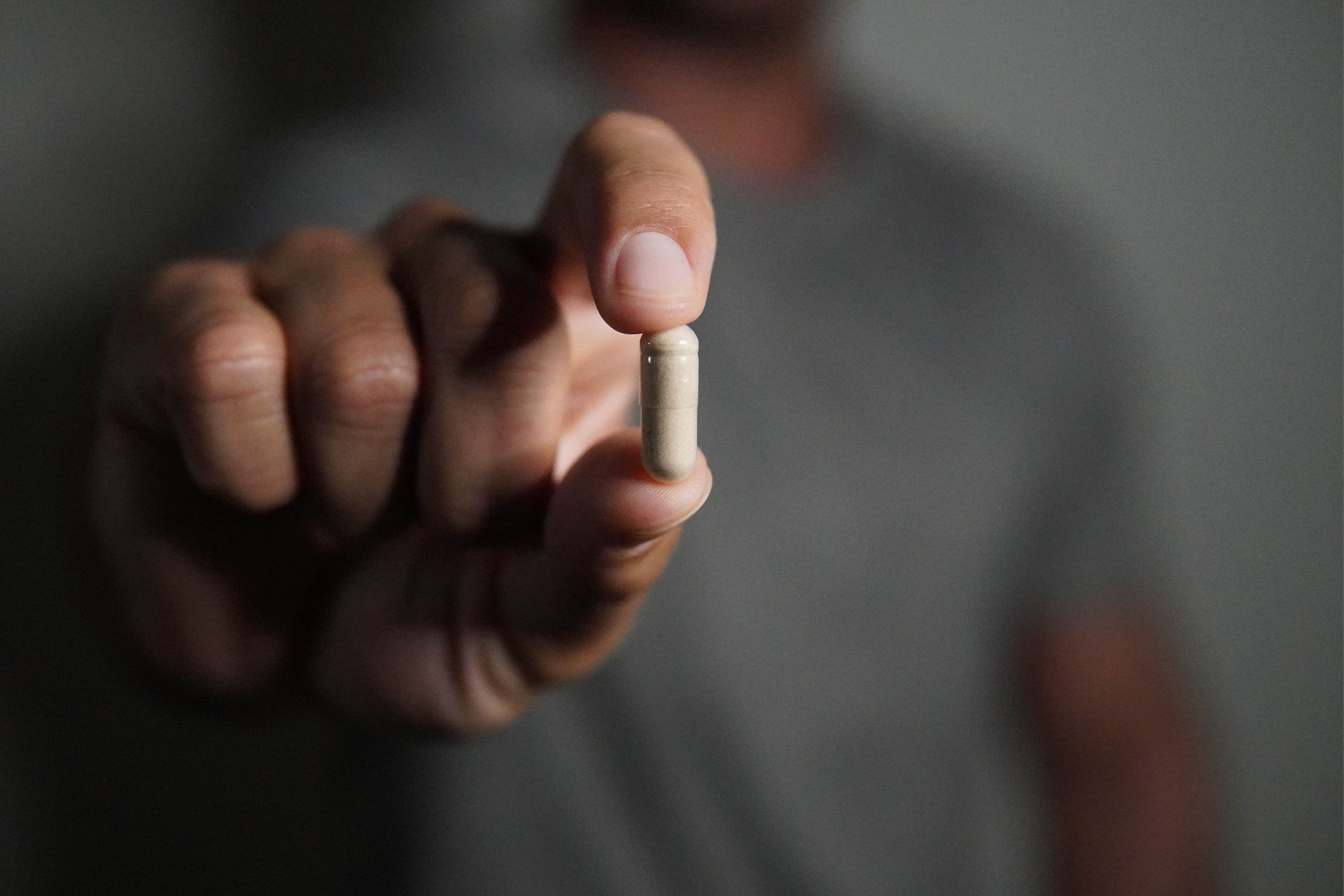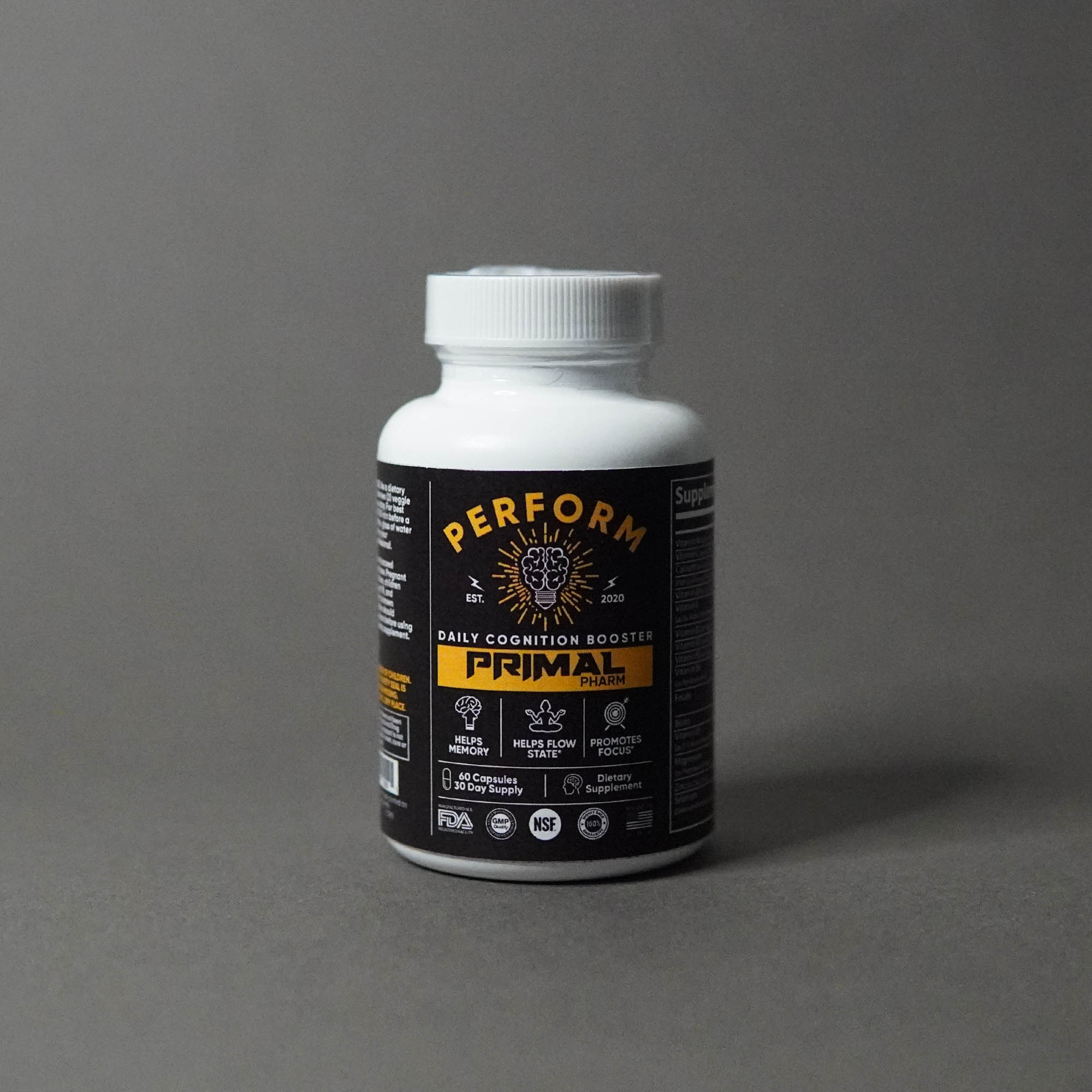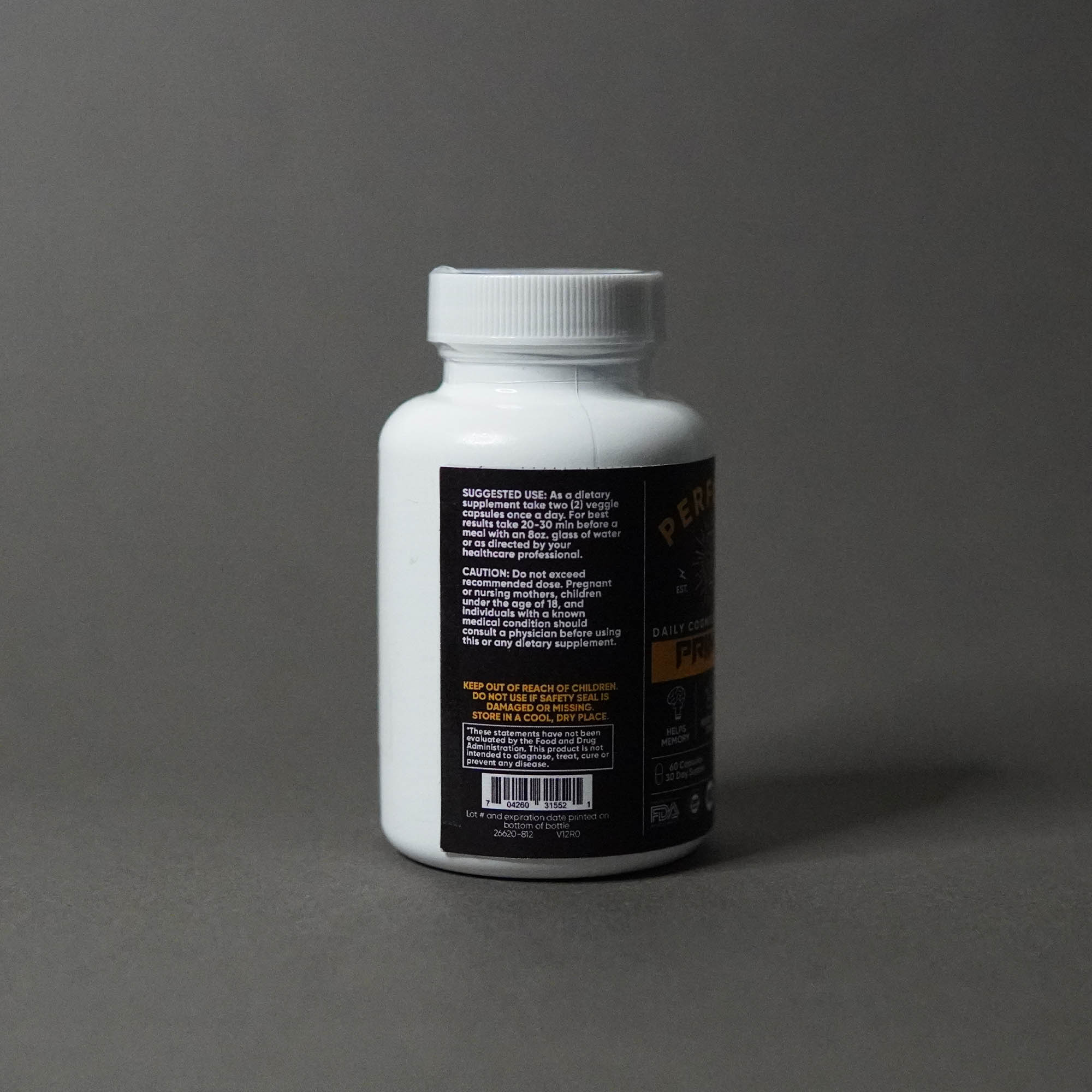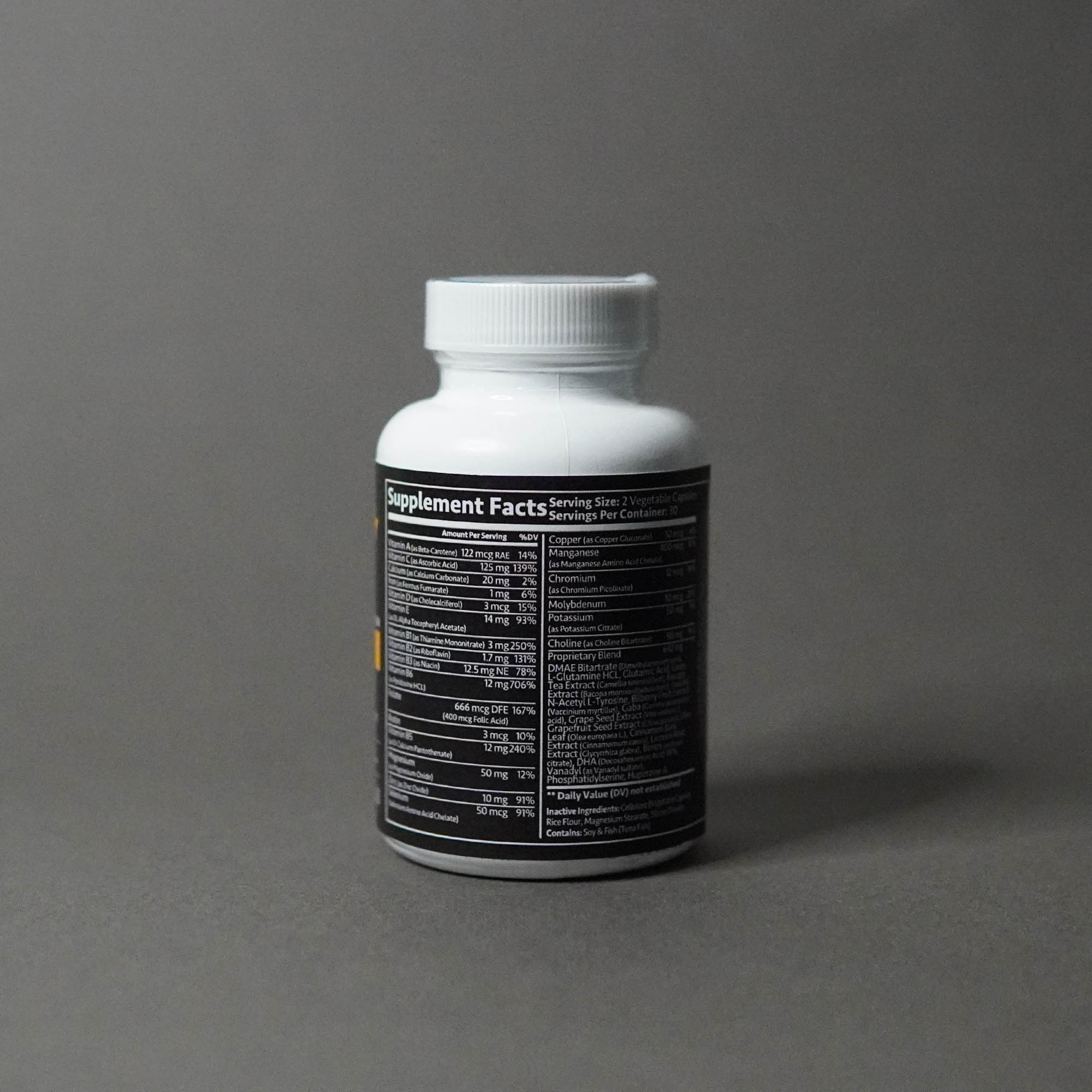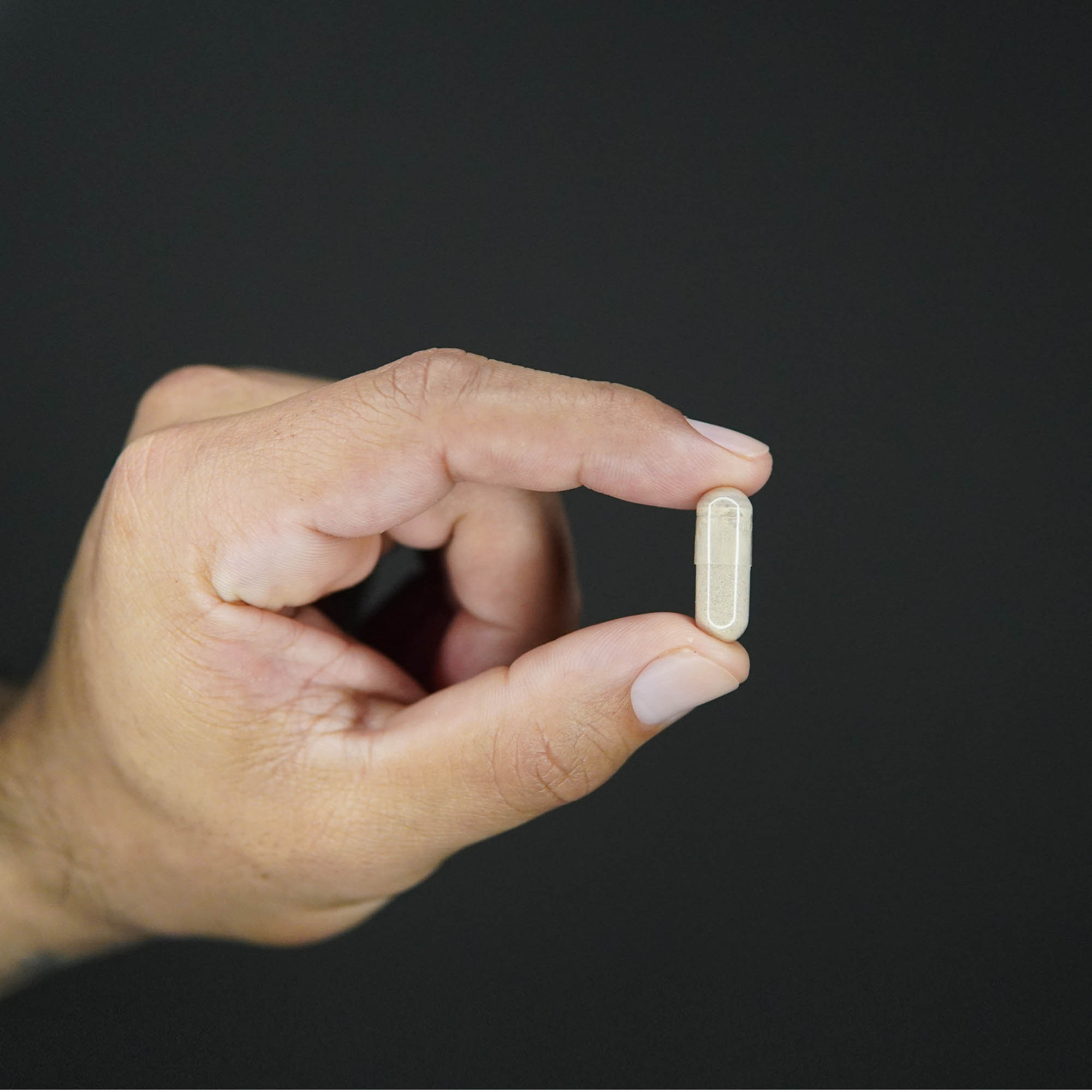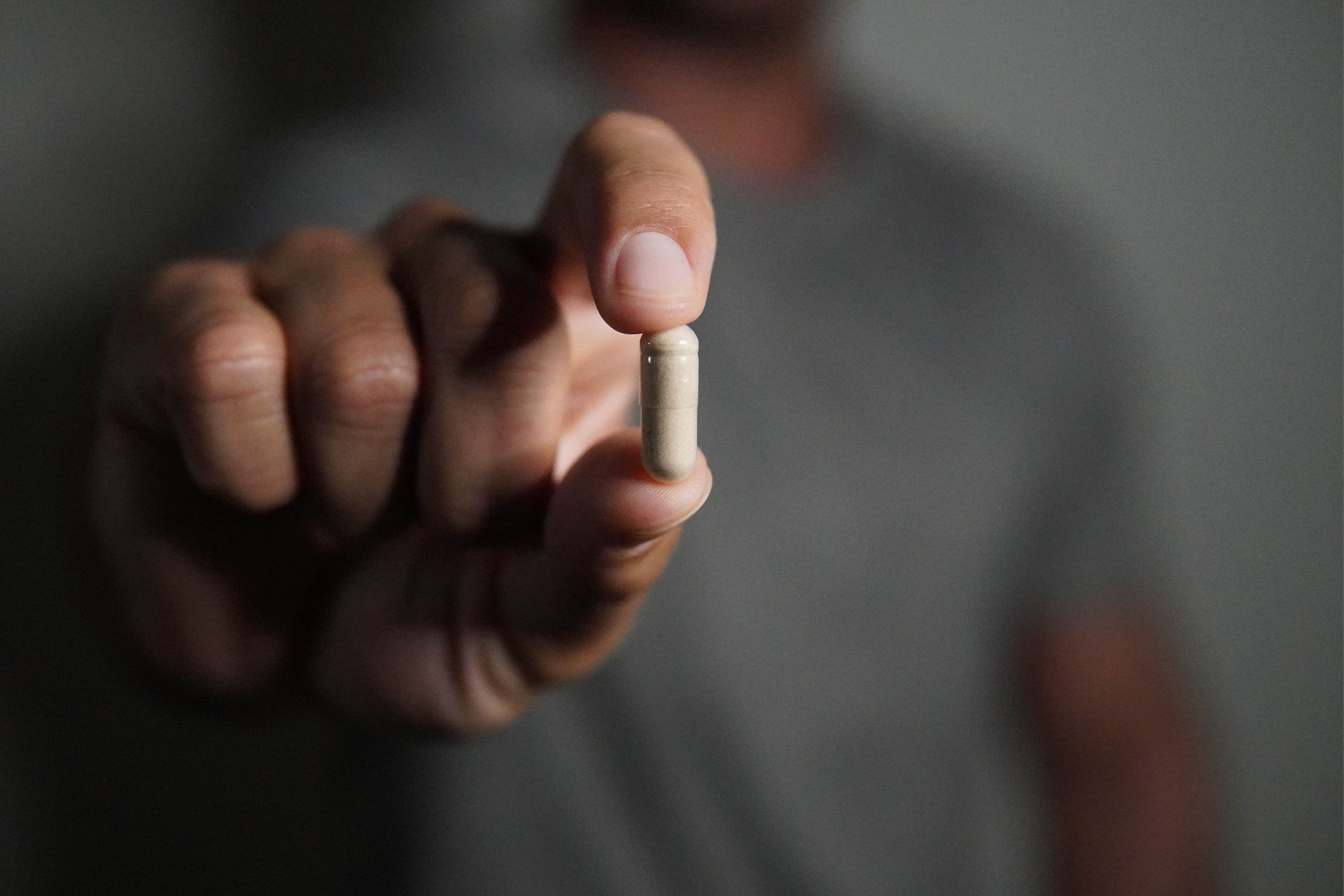 Brain Performance, Focus & Memory Supplement
To make your brain to work better, one must concentrate on two things: create more alpha waves and increase the production of neurotransmitters. We formulated PERFORM® with both goals in mind to help your brain operate on all cylinders.
PERFORM® helps you achieve flow state, also known as being "in the zone." Flow state is an optimal state of consciousness where you perform your best, and feel your best.
with over 40 clinically studied ingredients, PERFORM® has been formulated with nootropic herbs, vitamins and minerals that help improve your performance, focus and memory.
"The focus, the clarity, that's something that right off the bat, that first week, I noticed a big improvement!"
- Sam
Train Conductor
PERFORM® Your Best, Feel Your Best
IMPROVES MEMORY
Primal Pharm's PERFORM® is a nootropic, or "smart drug," that enhances memory by influencing neurotransmitters in the brain. PERFORM® can help improve memory function and general mental performance by restoring chemical balances that are often disrupted due to stress or aging.
HELPS WITH FLOW STATE
The blend found in PERFORM® contains building blocks for dopamine, epinephrine and thyroid hormones - All of which help you get concentrated faster and longer, inducing what is known as the "flow state" where you lose track of time and the only thing important at that moment is your task at hand.
PROMOTES FOCUS
PERFORM® boosts brain wave production making you feel calmer, more relaxed, and focused. Proven ingredients such as L-glutamine and DHA help contribute to increased attentiveness, mental clarity and alertness.
IMPROVED PHYSICAL PERFORMANCE
PERFORM® helps improve your cognitive abilities, decreasing the time between your brain processing information and sending signals to your body to react. A sharpened mind could mean all the difference between a win or a loss, the champion belt or a knockout.
Powerful Performance & Memory Boosting Supplement
DMAE BITARTRATE (DIMETHYLAMINOETHANOL)
DMAE is thought to work by increasing production of acetylcholine (Ach), a neurotransmitter that's crucial for nerve cells to send signals. Ach helps regulate many functions of the brain including REM sleep, muscle contractions, and pain responses.
L-GLUTAMINE HCL
L-glutamine is key to healthy brain function. It is a precursor to glutamate with the cycling of these two accounting for 80%+ of your brain's glucose consumption. A disruption of this cycle results in problems including epilepsy, bpd, schizophrenia, anxiety, depression, and alcohol addiction.
GLUTAMIC ACID
Glutamic acid works as fuel for the brain that helps stimulate focus and improve memory. As a chemical messenger, it's thought to help increase mental clarity and mood and is used to help treat conditions like Parkinson's, schizophrenia, depression, and anxiety.
GREEN TEA EXTRACT (CAMELLIA SINENSIS)
Research shows green tea extract increases the causal influence one brain area exerts over another leading to significant improvement in cognitive performance including working memory tasks.
BACOPA EXTRACT (BACOPA MONNIERI)
Bacopa may support learning, memory, moderate stress levels, and provide antioxidant protection to the brain's frontal cortex and striatum to help you complete tasks in a more efficient manner.
INOSITOL
Research shows some people with depression and anxiety have lower levels of inositol in their brain. Inositol may help balance serotonin and dopamine believed to affect your mood.
L-TYROSINE
Tyrosine is essential for the production of several neurotransmitters including epinephrine, norepinephrine, and dopamine which help nerve cells communicate and influences mood.
BILBERRY FRUIT EXTRACT
Studies have found bilberry may improve short-term memory, navigational skills, balance, and coordination. Compounds in bilberries seem to jumpstart the brain to help aging neurons communicate again.
GABA (GAMMA AMINOBUTYRIC ACID)
GABA is an inhibitory neurotransmitter because it inhibits certain brain signals and decreases activity in your nervous system producing a calming effec helping with feelings of anxiety, stress, and fear.
GRAPE SEED EXTRACT (VITIS VINIFERA L.),
Some studies have found that grape seed extract may prevent memory loss, improve cognitive status and brain antioxidant levels, and reduce brain lesions and amyloid clusters.
GRAPEFRUIT SEED EXTRACT (CITRUS PARADISI)
naringenin, its predominant flavanoid, supports brain health by reducing oxidative stress, activating Nrf2 and helping neurons to survive under conditions of aging, inflammation and/or injury.
OLIVE LEAF (OLEA EUROPAEA L.)
Contains an active ingredient called oleuropein which has shown to protect against Alzheimer's disease. The antioxidant effects of olive leaf extract may also help with preventing damage or loss of dopamine neurons that's associated with Parkinson's disease.
CINNAMON BARK EXTRACT (CINNAMOMUM CASSIA)
Brain benefits in humans include reduced inflammation, improved memory, increased attention, and enhanced cognitive processing.
LICORICE ROOT EXTRACT (GLYCYRRHIZA GLABRA)
May help prevent the normal decline in memory and other cognitive skills. Carbenoxolone in Licorice root has been shown to inhibit an enzyme in the brain involved in making stress-related hormones associated with age-related mental decline.
DHA (DOCOSAHEXAENOIC ACID) 14%
DHA, an omega fatty acid, has been shown to have a positive association with cognitive function and an inverse association with many neurological conditions related to mood and behavior.
BORON (AS BORON CITRATE)(WITHANIA SOMNIFERA)(ROOT)
Studies have shown boron may play a role in brain function. One in particular found that people who added boron to their diets were better at memory and hand-eye coordination tasks than people with low boron levels
PHOSPHATIDYLSERINE
Phosphatidylserine is a fatty substance called a phospholipid. It covers and protects the cells in your brain and carries messages between them. Phosphatidylserine plays an important role in keeping your mind and memory sharp.
HUPERZINE A.
Huperzine A acts as a cholinesterase inhibitor — a type of medication that works by improving the levels of neurotransmitters in the brain. Small early studies suggest that huperzine A might improve memory and protect nerve cells
Suggested Use: As a dietary supplement take two (2) veggie capsules once a day. For best results take 20-30 min before a meal with an 8oz. glass of water or as directed by your healthcare professional.
CAUTION: Do not exceed recommended dose. Pregnant or nursing mothers, children under the age of 18, and individuals with a known medical condition should consult a physician before using this or any dietary supplement.
Primal Pharm Perform
Helped me with sleep, speaking clearly, creativity, and remember things without having a long pause to think about the subject
Primal Pharm Perform
Seems to work well definitely tell the difference for sure
Primal Pharm Memory and Focus
Was skeptical at first if I was feeling a bit of a placebo from taking this but after continued use its clear that this stuff really works. No jitters either just pure mental clarity and focus.
Positive Effects
PERFORM helps me feel centered, focused, and mentally agile.
Perform 30 days
keeping me focused at work in a hoghly technical environment
Perform
Great experience with PERFORM, almost instantly fell results.
Perform
I wouldnt get through my strenuous days as a nurse without perform!!! Love this stuff.
Perform
PERFORM GIVES YOU A NATURAL BOOST AND SENSE OF CLARITY. I GAVE A BOTTLE TO MY BOYFRIEND FOR HIM TO TRY. DEFINETLY A GOOD PRODUCT.
Perform
Starts my day off right. Keeps me sharp all day long!
Perform
This stuff really works! I ordered it a few months back took it...noticed a slight difference, didnt reorder when I was out. After just a couple days of not taking it I noticed a huge difference. I re-ordered a bottle and Ill continue to be a customer for life!
*These statements have not been evaluated by the Food and Drug Administration. This product is not intended to diagnose, treat, cure or prevent any disease.